My journey got really great June 1, 2007. Before that, I was homeless for seven years. I was fighting an addiction to opiates and was racking up all kinds of court charges. At the time, I was unfortunately pleading guilty to a whole lot of things I didn't do. But on June 21, 2007, was when I decided to turn my life around. I went into rehab, and then after spending 28 days in the rehab for drug abuse, I lived in a homeless shelter. While I was there, I was doing intensive outpatient therapy.
Great things happened once I started to get clean. I started working with different agencies in the community, and I was able to get five scholarships for college. I attended college for the first year and got my certification in addiction counseling and worked for a halfway house in Frederick.
I knew that Goodwill was looking for people. I was kind of concerned going there because during my first year of college, I had to have brain surgery. After that, I suffered from short-term memory loss, and also I had a criminal record.
When I went to Goodwill, they welcomed me and were very friendly. I told them upfront about my situation, and it really didn't matter to them. I'm not saying they aren't picky – they want qualified people- but they didn't use my barriers against me.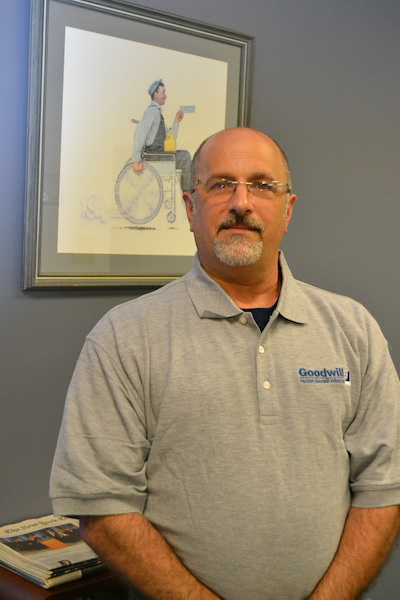 The good thing is, my supervisor and the staff, they know I have short-term memory loss, so they are actually able to make me proficient, and they make adjustments for that. What they do, they'll send me the same email several times and come by and ask if I got the email. When they explain things, they do it in a little simpler fashion, and they make sure that the task that's assigned to me, that I understand it thoroughly. And they do it with dignity.
Not only that, but they are helping me finish the rest of my college. I represent a program called Life Skills. I work with prisoners who are getting ready to transition out, back into the community. We teach them soft skills and hard skills. I think I have a leg up on that because I was incarcerated at one time and I also suffered from the same diseases that they've been diagnosed with, too.
My favorite part of the job is when the person who's released comes to see me and gets into our program, and the fire in that belly that they have hopefully gets developed. From there on out, it will be just like my story. It goes from 0 to 60 in two seconds. Not only does it affect the client, but the families are so grateful. Just to see them. They're so appreciative that something has reached them. Everybody's valuable. Everybody's valuable. Don't allow yourself to be measured by someone else's yardstick. Sometimes, don't believe everything you hear. I don't think I've met a bad person yet. I've maybe met a few people who need some guidance, but everybody is important.
The message I would have for employers is to be open minded. I do understand that there's a huge stigma attached to people who have been incarcerated. That stigma, a lot of times, is generated by what people know, which is unfortunately what they see on television and what they read in the newspaper. That only portrays a very small part of what people who have been incarcerated are. I've run into some phenomenal people who have everything from a GED to a master's degree that have all been incarcerated.
If I had to sum it up in one sentence, please be open minded.