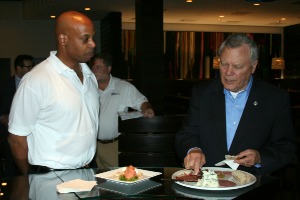 In 1993, I was convicted of a horrible crime. It not only destroyed the life, hopes and dreams of the victim, but it destroyed mine and those of my family. For the next 21 years, I prayed that God would release me and give me another chance at life. I prayed that if he did, I would dedicate my remaining years on earth to the service of mankind, the community of human society.
After I worked four years as a banquet captain at the Governor's Mansion, the Georgia Pardons and Parole Board decided to release me. I was given the opportunity to stay in Atlanta, GA and work out of the Atlanta Transitional Center, but because my aging father lived in Augusta, I chose to transfer to the Augusta Transitional Center. It was from the ATC that I met Kelly Taylor at Goodwill Industries of Middle Georgia and the Central Savannah River Area (Macon).
"Goodwill – isn't that the place where they sell discounted clothes?" Well, yes and no. When Kelly started to explain to me all the things that Goodwill did, my first reaction was, "Wow, they have the same life mission as I do. We have the same vision." This is a perfect fit. Here was God's answer to me. Goodwill was his "yes" at giving me a second chance.
My first job was as a server assistant at Edgar's Grille. My training came from a 17-year-old serving powerhouse who ran me to the ground. I was then given the opportunity to work as a banquet server at the Snelling Center. This gave me the opportunity to meet the Goodwill's president and CEO Jim Stiff, who continually encouraged me to strive for excellence. So I did. I also decided to take advantage of a communications skills class offered at Helms College, taught by instructor extraordinaire Natoya Black.
Soon after I was given the responsibility to be banquet captain, I became the only full-time employee working out of the Snelling Center. I was then introduced to my chief soldier-in-arms, Susan Clay, who is one of the most dynamic individuals that I have ever met. She continually pushes me to excellence and expects nothing less.
Goodwill has given me the opportunity to give back. My goal is to eventually become a case manager for Goodwill, which has prompted me to return to school in January to earn my degree in social work. The Goodwill family has allowed me to regain my humanity, and I will do everything I can to make Goodwill, Jim, Susan and the community proud.