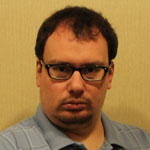 For five years I was unemployed. I had just moved to a new part of the country after about 15 years at another place. I was 26 years old, and I should have been working.
I have Asperger syndrome, which means I have trouble socializing sometimes. I can be lazy sometimes too — I was living with my parents and they took care of a lot of things. I was going to school for some time, but I was nervous around new situations and afraid to get outside of my comfort zone.
When I started at Goodwill Industries of Monocacy Valley, I was a little bit nervous. I got to meet new people. It was a professional environment, but at first, I almost treated it if it was like high school. After a while, I got better.
I actually found work! I've been working since December 2012 at a commissary — it's like a small grocery store — on an army post right near where I live in Maryland. I stock shelves, load boxes and put items on the shelf. It's going well, and I'm getting a good workout.
I'm happy to be working; it's nice to be independent. I feel more independent than I've ever been. Working made me feel better about myself. I have more freedom. I am able to make my own money and buy my own groceries, buy my own gas. I can make my own rules, more or less. I still live with my parents, but I now pay them rent.
I feel good about myself, and I'm happy with my job. It's going well.