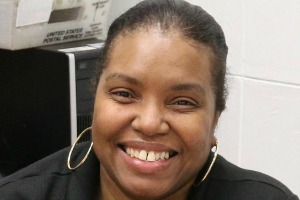 Prior to coming to Goodwill eight years ago, I worked for a group home for displaced teenage boys. The group home closed and I found myself unemployed, facing eviction from my place and facing homelessness. Eventually, I found myself living in a homeless shelter with no possible work prospect. The feeling of not having anywhere to go or turn to was a scary and daunting feeling.
Here I was out of work, living in a homeless shelter with a college degree and no job. I lost all hope in myself and my ability to find work. By the grace of God I heard about this referral agency and I found the energy to push myself and make an appointment. This is where I found Goodwill Industries of Southeastern Wisconsin (Milwaukee). A temp representative spoke highly about Goodwill and in how they provide opportunities for people with disabilities. I applied, got an interview and later received a job offer. This was a defining moment in my life.
From the time that I was hired by Goodwill back in 2006, eight plus years has since passed and I have excelled at every opportunity presented. I went from being a food service worker to hosting. From there I applied for a new job in the post office at Great Lakes Naval Base with the assistance of my workforce development supervisor Fred Williams. I was apprehensive about applying, but he kept telling me to apply and saying you never know unless you try. So I went through the interview process and was offered the postal service job at Great Lake Naval Base.
I cannot describe my feelings of accomplishment and joy upon being offered the job. The positive one-on-one support I received from my workforce supervisors instilled confidence I was unaware I had. The sense of purpose and direction was back in my life again.
Given the fact that I have kids, I went on and pursued my daycare license and passed the certification and now I have been practicing as a licensed part-time daycare operator for the past few years. I am grateful for the support of many Goodwill staff of all levels. I cannot thank them enough for all their support and well wishes on my journey back from unemployment to being viably employed and feeling good about myself, my family and my future.