By Chris Fletcher, PR & Communications Manager, Goodwill Industries of Middle Tennessee (Nashville)
Hammers pound, impact screwdrivers chatter and a circular saw shrieks. Smells of sawdust, paint and glue mingle in the air. A teacher shouts instructions and encouragement over the noise.
"Chaos" is how instructor Tim Kahn jokingly describes the scene, which he says reflects a typical day's activities for students in Goodwill of Middle Tennessee's Construction Training Program.
Behind safety glasses and a dust mask, Lateasha Davis is the very picture of concentration as she operates the circular saw. She is cutting sections of countertop for booths that will be used by employees who process donated items in Goodwill stores. Nearby, other students assemble frames for the booths and attach the newly cut countertops.
"This is really exciting — something new for me to learn," Davis, a diminutive 29-year-old mother of five, explains during a break. Davis has worked as a housekeeping supervisor for several years, but she wants to try her hand in a different field and hopes to earn more money.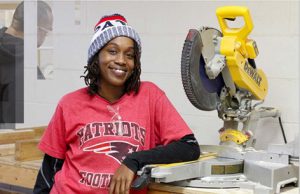 At a Goodwill job fair, she learned about the Construction Training Program, housed in an industrial complex in Nashville. Students attend classes five days a week for five weeks, receiving a stipend of $100 per week. Upon completion of the course, which covers safety, construction math, hand and power tools, blueprints, rigging, communication and employability skills, students receive certification from the National Council for Construction, Education and Research.
After only two weeks, Davis and her classmates have learned how to use most construction tools, how to stay safe on a job site, how to properly measure materials for projects and more. They spend three hours a day in the classroom, and three hours in the workshop. This day began with a visit by a representative from a local bank, who offered advice on budgeting, the loan process, how students can improve their credit scores and more.
Kahn said the financial overview is especially appropriate, because the majority of his students are struggling to find work when they enroll. That was the case for Patrick Lewis.
The 50-year-old Nashville resident is physically imposing — a muscular man with numerous tattoos — but his eyes convey sadness and anxiety. He has been looking for steady work for more than five years, since he completed a prison sentence for a property crime that occurred in 2005.
"It still haunts me," he says. "Employers will give me chances, but later on, HR (human resources) will come back and say they don't want me. It's tough when there's no money coming in."
Lewis has held several temporary construction positions, so when he heard about the construction class during a job fair in downtown Nashville, he knew he wanted to participate.
"This class is a real blessing for me," he says. "I made a mistake, and I paid for it. I'm not a bad guy. I just need to build my skills up and hopefully I can find a permanent job."
More than 90 percent of the construction class graduates, including many with histories of incarceration, find jobs immediately upon completing the course.
To further ensure success, Goodwill guides students to many other services, such as criminal record expungement, driver's license reinstatement and high school diploma equivalency classes.
"I try to instill in them that when they get out of this class, they can design a house, lay the block, build the house," said Kahn, "They are going to have much more overall knowledge than half the people they compete with."
Note: Originally posted on Goodwill Industries of Middle Tennessee.