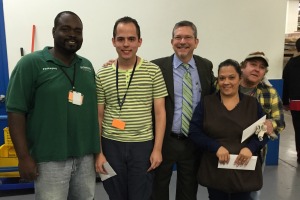 Goodwill Industries of South Florida (Miami) employees Niurka Serrano, Maria Valdez, Susan Spiller and Aldrich Johnson were recently recognized in front of their peers for saving the life of fellow employee Brandon Nasta.
Nasta and his colleagues were on break when Serrano, who was sitting next to him, alerted everyone that Nasta was choking on his food. After various attempts by Valdez and Spiller to dislodge the food, Johnson asked everyone to step aside.
Johnson reverted to his Boy Scouts training, and performed the Heimlich maneuver. Thankfully for Nasta, his co-worker was successful in dislodging the food from his airway. He immediately began breathing. Victor Hernandez, the employees' supervisor said, "I believe if it wasn't for the quick thinking and unselfish acts by these employees, we would've had a very different outcome."
David Landsberg, president and CEO of the Miami Goodwill, presented each of the employees with a reward to recognize their act of heroism and said, "I knew that you were an outstanding group of employees, but now it's clear that you're also a group that completely has each other's back." He turned to Johnson and said, "If I'm ever choking, I hope you're the guy near me".