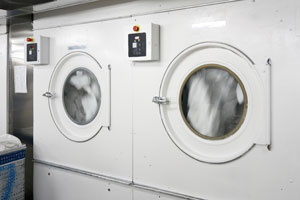 Goodwill Industries of South Florida (Miami) revealed a new $14 million state-of-the-art hospital laundry plant in Miami, FL late last month. The laundry will employ 200 individuals, most  with disabilities.
The Miami Goodwill chose to build the laundry center in Liberty City, the neighborhood with the highest unemployment rate in Miami-Dade County. Goodwill Industries of South Florida Board Chairman Joe Lacher said, "Our commitment is to help address those issues and make this a strong and vibrant community."
The 50,000-square-foot processing plant will be separated into a clean and a dirty side. A computerized system of belts and hanging bags moves the sheets, blankets, gowns and towels from the truck-sized washers in the non-sanitized section to the 10 dryers in the sanitized section. The facility will have the ability to wash 40 million pounds of laundry each year by running double shifts.
The University of Miami (UM) hospital system will be the first customer to take advantage of the facility services. "This is not charity on our part,'' said Donna Shalala, UM president, at the ribbon-cutting ceremony. "Today is a no-brainer for us. We're not only bringing jobs back to Miami, but we're doing business with one of our great partners, too: Goodwill."