Steve Preston is CEO of Goodwill Industries International. This article was first published on Medium.
Back-to-school season is an exciting time of year, evoking traditional images of friends reunited, college dormitories and football rivalries. But for many of today's students, this time of year holds very different associations. The population of learners is diversifying, as are employer needs in a changing job market.
According to the National Center for Education Statistics, the majority of U.S. college students are now non-traditional learners — including older students returning to school or starting later in life, those attending while raising children and those attending while working.
Throughout the Goodwill® network, our community-based organizations offer a variety of high school, college and certificate programs designed specifically for non-traditional learners.
Goodwill's flagship program for adult learners is The Excel Center®. Founded in 2010 by Goodwill of Central and Southern Indiana (Indianapolis), The Excel Center now operates in 25 cities, providing adults the chance to earn their high school diplomas, industry-recognized job certifications and college credits, all at no cost.
The Excel Center gives students the ability to balance school and work by offering free drop-in child care centers and transportation assistance. With flexible scheduling and expedited curricula, students can learn at their own pace and complete their educational requirements throughout the year.
Since 2010, nearly 4,000 students have graduated from The Excel Center, and 92 percent of graduates also earned certifications or college credits.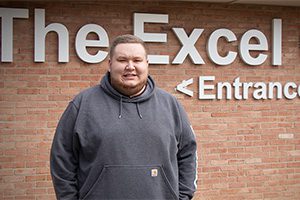 I recently had the chance to meet Dylan Snell, who graduated from The Excel Center in Anderson, IN.
By age 19, Dylan had dropped out of high school, was homeless and was facing a felony theft charge. At the suggestion of a friend, he enrolled in The Excel Center, where he earned his high school diploma along with some college credits. Today, he works as a project manager for an electrical supply company. He calls his experience at The Excel Center life changing.
Beyond high school, Goodwill partners with more than 140 community colleges nationwide and collaborates with employers to develop training and apprenticeship programs. In 2018, Goodwill helped more than 37,000 people earn educational credentials, including associate's, bachelor's and master's degrees, and professional certificates.
In Palmdale, CA, for example, Goodwill Southern California has joined forces with Antelope Valley College, Northrop Grumman, Los Angeles County and the City of Palmdale to create a customized aerospace manufacturing program, with hands-on training at an aircraft terminal. Tuition, books and fees are covered through a federal grant administered by Goodwill. Since 2016, the program has trained 698 people, with a job placement rate of 94 percent.
In Roanoke, VA, Goodwill Industries of the Valleys operates a similar credentialing program with Virginia Western Community College, offering classes in machining and manufacturing. In the last year, 84 students earned 87 credentials, with a job placement or advancement rate of 87 percent.
These programs are models of how the public, private and nonprofit sectors can work together to educate, train and employ students from all walks of life.
Goodwill organizations are uniquely positioned to identify the opportunities and connect the stakeholders. We have deep roots in local communities, we understand the needs of local employers, and we know the potential of the non-traditional learners we serve.
As students nationwide head back to school this fall, Goodwill celebrates the dedication, resilience and tenacity of the adult learner, and we encourage anyone considering pursuing an education to explore the options at their local Goodwill.