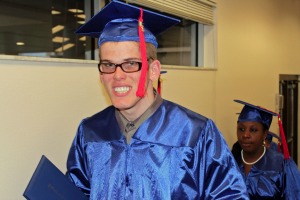 Teamwork has always been a theme at Goodwill L.I.F.E. Academy in Fort Myers, FL, even during its graduation ceremony. The school serves middle and high school students with intellectual disabilities.
L.I.F.E. Academy, which opened a decade ago this August, celebrated its tenth graduating class on May 28 in the Edgewood Elementary School auditorium.  Six graduates received diplomas or certificates of completion from Principal Lynn Pottorf and Pamela LaRiviere of the Lee County School Board.
"This is a very special year for L.I.F.E. Academy," says Pottorf, who has been principal since the school opened in 2005. "We are proud of the graduates' accomplishments and excited they all have plans for a promising future."
Goodwill L.I.F.E. Academy's annual commencement ceremony is traditionally one of the smallest in Lee County, but that doesn't make graduation any less significant for its students.  The Lee County charter school, which caters to students with intellectual disabilities, celebrated six students in its class of 2015.
In total, the school has graduated 41 students in its ten years.
"We've had eighteen-hundred school days since we opened," Pottorf added during her closing remarks at the commencement ceremony.  "And we've had eighteen-hundred reasons to celebrate."
Goodwill L.I.F.E. Academy is a charter school for students ages 11 to 22 with intellectual disabilities. Classes at the L.I.F.E. Academy focus on academic, vocational, and life skills to prepare the students to live as independently as possible after graduation.