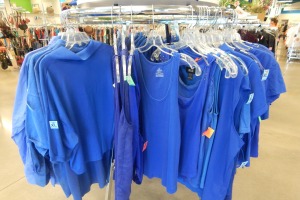 Goodwill Manasota (Sarasota) recently partnered with the local Child Protection Center for April to promote the #PaintSRQBlue campaign. The Goodwill is featuring blue items on the seasonal rounder in all seven area retail stores throughout the month.
April is nationally recognized as Child Abuse Prevention Month; blue is the color utilized to signify the campaign and help raise awareness of this urgent issue within the community and around the country. April 10 was Child Abuse Prevention Day and community members were encouraged to shop for blue clothing at the Sarasota Goodwill while sharing photos on social media with the hashtag #PaintSRQBlue.
Multiple businesses, banks and a variety of retail stores are setting up displays in lobbies and windows to help raise awareness of the campaign.
"At Child Protection Center, we believe that protecting children is everyone's job. When a community stands together and participates in starting a conversation, that's a step in the right direction," said Doug Stanley, Child Protection Center's executive director. "This is an issue that is often ignored or avoided because it's not easy to talk about but we have to break the cycle, and that begins with raising awareness."
"So often, people don't understand what is happening right here in Sarasota. Partnerships like this one are invaluable in educating and motivating people to action," said Veronica Brandon Miller, Goodwill Manasota Foundation vice president. "For 35 years, the Child Protection Center has existed in Sarasota to help children who are going through the worst circumstances you can imagine. If you're looking for a way to get involved and help out a worthy cause, this is it. Wear blue this month and join us in showing your support."