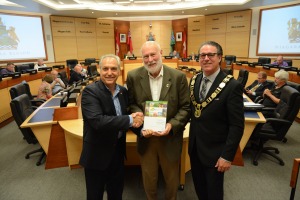 Goodwill Niagara (St. Catherines, ON) was recently awarded a Green Nonprofit Award at the Niagara Regional Environmental Awards. St. Catharines City Councillor Sal Sorrento and Regional Chair Alan Caslin presented the award to the Goodwill's Board Chair Stan Pride.
The Goodwill was recognized for furthering recycling efforts in Niagara by selling, exchanging and distributing recycle boxes, green bins and kitchen catchers. The agency's partnership with the Niagara Region is a vital one that helps create awareness for the need to recycle as much as possible on a daily basis. These resources are available at the Goodwill's stores in St. Catharines.
The Goodwill's newest construction project came in the form of a two story facility built on an abandoned industrial brownfield. The building offers 25 units of affordable housing for seniors, a community center, training center and Goodwill Niagara's first drive-through donation drop-off location. The building concept was all about making it environment friendly. Solar panels on the roof along with a host of energy saving systems, including LED lighting, energy efficient windows and hot-water heating, were included in construction.
Past Project Highlights
Goodwill Niagara has been involved in other projects around Niagara that have helped revitalize the community. August 1999 saw Goodwill Niagara purchase the building belonging to the Royal Canadian Legion, Branch 24. The building was converted into a community based accessible facility, which accommodates community agencies such as Greening Niagara, DSBN and Rotary Niagara. This partnership and the sharing of resources enables Normandy Resource Centre partners to generate increased savings, which can then be re-directed into the delivery of community services and programs. This valuable partnership also ensures that the Royal Canadian Legion, Branch 24 maintains its presence in the community.
In 2006, the former Stokes Seeds industrial building in downtown St. Catharines was renovated to accommodate 32 affordable apartments for seniors, as well as community facilities and office space for nonprofit agencies.