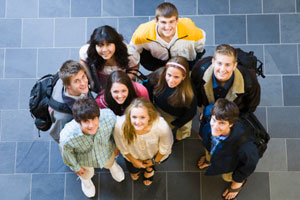 From June 10 to 13, Goodwill Industries of Greater Grand Rapids (MI) participated in a youth employment event, Ready Now! for Youth, that gave youth in Kent County employment skills and training to interview for jobs and internships. The collaborative effort brought together Grand Rapids Community College, the Kent Intermediate School District, the Goodwill, the chamber of commerce, Kris Mathis Enterprise and Express Employment.
"This collaboration provides a great opportunity for graduating seniors who are preparing for life after graduation," said Jill Wallace, the Goodwill's chief marketing and communications officer. "We are excited to offer this workshop, which will provide necessary tools that are instrumental in seeking employment and career opportunities. It's also a great way for these recent graduates to meet employers face-to-face."
The first two days consisted of six employability workshops and a presentation from motivational speaker and best-selling author Kris Mathis. Workshops covered topics including personal branding, résumé writing, interviewing and bridging the generational gap.
On the third day, the 18- to 22-year-old attendees headed to the Grand Rapids Goodwill to complete their résumés, learn about applications, research companies and participate in mock interviews.
To close out the event, students who completed the first three days of the event were guaranteed at least two interviews. Businesses came on site June 13 to interview students for jobs and internships.
"The response was wonderful from those in attendance," said Cyndi Langlois, the Goodwill's youth services program manager. "They developed relationships with business leaders, Goodwill staff and influential community members and were taught to believe in themselves and make their future their own."
This marked the Goodwill's third Ready Now! event. The first two focused on manufacturing – the primary industry in West Michigan – for workers 18 and older.