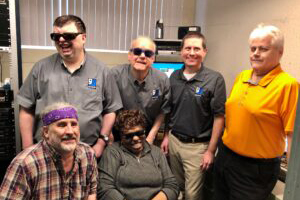 This month, the Youngstown Radio Reading Service (YRRS) is celebrating its 30-year anniversary at Youngstown Area Goodwill Industries. YRRS, which celebrated 45 years of broadcasting last year, is a special nonprofit radio station dedicated to providing independent access to information for people who are blind or print impaired. YRRS operates 24 hours a day, seven days a week, airing a variety of original interview shows and special-interest programs on top of content from newspapers, magazines and books, read by volunteers.
"What our radio reading service has accomplished is extraordinary," said Annie Phillips, interim CEO. "Our YRRS team is made up of a group of dedicated individuals who are enthusiastic about executing the mission of Youngstown Goodwill and Radio Reading."
Originally part of the Youngstown Society for the Blind and Disabled in Ohio, YRRS began broadcasting in 1976 and operated for two years on the Youngstown State University campus before moving to studios at YSBD in 1978. When YSBD closed in 1992, YRRS moved to its current location at Youngstown Goodwill's corporate offices on Belmont Avenue, where it has been for the past three decades.
"There were a lot of unknowns when we came over from the Society of the Blind and Disabled in 1992," said Mike Bosela, who was Radio Reading Coordinator when the service transferred to Goodwill until 2018. He still works in the department as a Radio Reading Broadcast Tech. "I soon learned that Goodwill was a nurturing, understanding and welcoming environment. We were positioned to succeed, and thanks to the staff, we all have continued to do so."
YRRS commemorated the 30-year milestone with two anniversary programs that aired March 1 and March 8. The half-hour shows featured Goodwill employees and volunteers who have been part of Radio Reading since its transition from YSBD. Each episode will also be available on Goodwill's website after it airs.
Operating on the SCA channel of WYSU-FM, YRRS is available on specially tuned radios provided free to listeners, the Goodwill website and Amazon Alexa, using the skill name "Goodwill Youngstown Radio."
This post originally appeared in the Youngstown Area Goodwill Industries newsroom. Read more.