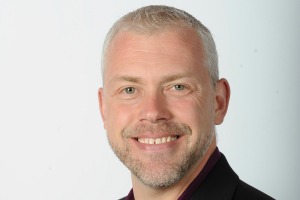 Interstate Hotels & Resorts, the leading U.S.-based global hotel management company, managing major global brands such as Marriott, Hyatt and Hilton, recently teamed up with Goodwill® to launch a unique pilot program, a customized jobs portal created in conjunction with Hospitality Online. The portal, hosted on GoodProspects® career navigation platform, allows Goodwill staff to access details about open positions at Interstate-managed hotels in their region, and refer qualified job seekers to apply to these openings.
Earlier this month, I had the opportunity to speak with Nigel Williams, vice president of human resources for Interstate Hotels & Resorts and a 25-year veteran of the customer service industry, to learn more about this collaboration, as well as how he and his team think about attracting the best talent amidst a fluctuating job market.
Why did you choose to partner with Goodwill, and what are your goals for the initiative?
Williams: I want Interstate to partner with any organization that is ethical and will provide great pipelines of talent for our hotels. We are a national organization, like Goodwill, and we are a mission-focused organization, looking to help provide career opportunities to anyone who wants to actively better themselves and find employment. We want to be a helping hand to help link genuine job seekers to rewarding careers, and Goodwill has offices and career centers across the country that can connect us to these individuals.
What's unique about the hospitality industry is that you don't always have to have the same job, but you can find a career path – we want people to grow. Formal education is not required to be at the entry point of a career in hospitality. Our goals are to make good jobs available in a very applicant friendly manner. We can also help steer a job seeker to the "right fit" job for them.
In addition, if a Goodwill job seeker gets hired with Interstate, down the road we would love for that individual to share their career path with other job seekers. We would love to do a 'where are they now?' Hopefully they've found a career home, or taken on a new role to broaden their experience. Starting on the national level and then focusing on a local approach, we can create a partnership that will go on for years and years to come. With the number of Interstate managed hotels and the number of Goodwill offices across the country there is a lot of synergy there for the people Goodwill is trying to help.
When we discuss employment and hiring, what trends do you see within the hospitality industry?
Williams: Flexibility is something we see more and more of a need for, and if a job seeker can demonstrate this they will have a real advantage.  Job seekers are looking for a company and position they can connect with.  At Interstate we offer great jobs but are also proud of the community involvement demonstrated by our hotels in their local markets.  This spirit to serve resonates with someone looking for more than just a paycheck.
Every day you get to come to work, you get to make a difference. It doesn't matter who you are – everyone has the ability to make or break a stay for a guest. This aspect makes our jobs feel very empowering. In many industries a job for life just doesn't exist anymore, but Interstate offers very flexible career paths, allowing you to move between a Westin or a Hilton hotel and gain more experience as you grow, and still keep tenure with the company. We greatly value our associates that grow their careers with us, because we are a growing company ourselves.  The hospitality industry can be yours for as long as you want to work in it, from starting as a part-time student, working all through school, to becoming a full-time employee and then part-time if you have kids and want to make that your focus for a few years.  We have great jobs that allow you to connect with people and they can't be outsourced.
What are skill sets that you look for when hiring individuals in the hospitality industry?
Williams: Ultimately, we are a people business, and given that, one thing we always consider of applicants is the one thing you can't teach – do people have empathy? In the hotel world our guests may encounter problems that are not in our control, people show up to our hotels exhausted after a long day of traveling where everything has gone wrong, but through empathy our associates have the ability to make a real impact.  They can turn around that whole experience and "wow" the guest, and those are the memories that can make a difference. Our associates understand that you treat people the way you want to be treated and are empowered to turn around a guest's day.
In closing our conversation, what impressed me most was Nigel and his team's keen focus on staying ahead of the curve in leveraging technology to recruit top talent, while always prioritizing empathy and human connection front and foremost. Their partnership with Goodwill is just one example of this. Interstate is setting the stage, and other companies could learn a thing or two. Take note!