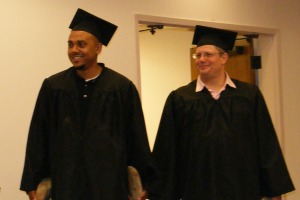 Goodwill Industries of Tenneva (Kingsport) helps individuals with criminal backgrounds complete the last step, intervention, by addressing their employability concerns with re-entering the workforce through classes at the Day Reporting Center (DRC). The DRC provides education, sobriety and works to reduce criminal intent for probationers and parolees.
Graduation from the DRC program in Johnson City, TN is a big deal for the participants of the grant funded program of the Targeted Community Crime Reduction Project (TCCRP). This past January, two participants, Chris Rowe and Jason Nickles, received their certificate of graduation with smiles and enthusiasm for the next chapter of their lives.
The TCCRP is funded through a state grant and focuses on a four step approach – pre-enforcement, enforcement, neighborhood revitalization and intervention – to reducing the amount of crime in Johnson City and Washington County.
Kingsport Goodwill employee Stacy Haas, employment services program manager, heads up the employment classes in the re-entry program at the DRC.
 "I teach the participants in the DRC about having a positive attitude, turning their negatives into positives, their appearance and how to fill out an application correctly," stated Haas. "They learn interviewing skills and how to interview with tough questions."
Rowe and Nickles both have taken classes from Haas and have learned valuable tools and skills for their future.
"I now have the self-assurance to talk confidently in an interview," said Rowe. "Being open minded and taking advantage of the classes and wonderful opportunity given to us will help me achieve my goals."
The DRC is educating and empowering males and females who have been court ordered to attend the DRC due to having a criminal background.
"It is a rewarding job, to see individuals gain employment or succeed in their job is a wonderful feeling," said Haas.
"The DRC is an excellent program that has gained staff that are truly wanting to see the revolving door stop." Nickles reflects on his time in the program, not only learning job skills, but life skills as well. "Since I have been at the DRC, I have met some wonderful, caring people," said Nickles. "I have learned to trust authority again."
Goodwill Industries of Tenneva looks forward to the expansion of the program, helping more participants reach their goals and will continue to support the program per our mission of helping people with barriers to employment receive employment training.