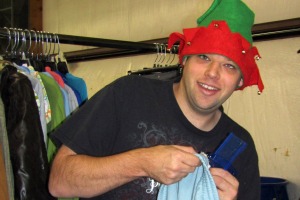 Goodwill Industries of Tenneva (Kingsport, TN) program participant and employee Matthew McCurry shares how his life has changed since being introduced to the organization.
What brought you to Goodwill®?
I used to work at Cracker Barrel and transferred to another location. It wasn't the same as working at my old restaurant and wasn't a good fit for me. I went to Vocational Rehabilitation of Tennessee and talked with a counselor and she got me into the Work Adjustment program at Goodwill. I started in March in the program and was hired in September.
How open were you at first to receiving services from Goodwill and why?
I was open and excited. I was ready to get somewhere in life and out of the house!
Who have you worked most closely with, and how have they helped you progress toward your goals?
My goals were to get a job and then learn all the responsibilities at the place where I got a job. My coworkers at the processing center helped teach me the skills and confidence to do my jobs.
What new skills or knowledge have you gained that will help you in your employment and career journey?
My [clothes] hanging skills are good now, but first you have to figure out the right tools for the job, like the pants hanger is for the pants and the heavy duty hangers are for the sweaters. Knowing the right tools helps you get the job done better.
What employment, education or life goals have you set for yourself?
I have an acoustic guitar and want to play in a band someday. At work, I want to be a supervisor someday too.
Overall, how has your experience with Goodwill made an impact on your life?
There is great management here and it makes working here a positive experience every day. They gave me a chance to show I could work and I have ever since!
What advice do you have for anyone going through a similar situation?
If you're working in an unhappy place, don't quit at first, stay and figure out the situation. If it's you that's the problem then straighten up, but if there is something else try to talk it out and find a solution.