By Malini Wilkes GII's public relations and multimedia manager, media relations
When the Goodwill® Learn IT Digital Skills mobile classroom hits the highway in rural Kansas, the massive blue and white vehicle inevitably turns heads and attracts attention.
Goodwill Industries of Kansas, based in Wichita, put the "classroom on wheels" concept into motion in July 2018 to reach communities in far-flung corners of the state.
"Our Goodwill territory covers two-thirds of Kansas, so we had to find a way to be mobile if we wanted to support individuals who need our services," said Chris Stanyer, vice president of career services at Goodwill Industries of Kansas.
After receiving a $300,000 grant from Google.org last year, the Kansas Goodwill secured a 2007 Ford F53 RV motor home and outfitted it with 11 fully functional computer stations with hardwired internet access.
"I've driven it through heavy rain, wintry mix, dense fog, extreme cold — and now I'm preparing for the summer heat!" said Justin Rupert, who pilots the van and teaches the workshops.
Rupert is a native Kansan, and when he tells his students that he was born and raised in the rural town of Coffeyville, it helps put them at ease.
"I'm able to say, 'I'm just a Kansan, just like you.' That takes some of the anxiety out of the equation for people who are nervous about computers."
The mobile lab has trained more than 1,200 people in 35 rural communities over the past year, offering free classes in basic computer usage, Word, Excel, Google's GSuite products and more. Some students have never used a mouse or keyboard. Others have worked on computers for years but want to upgrade their skills to stay competitive.
As program coordinator for the Learn IT mobile classroom, Rupert reaches out to community leaders, businesses and nonprofits, and tailors his workshops to fit that community's specific needs. He sends assessments to all students who enroll, so he's able to evaluate their skill levels even before showing up on site.
"When Justin called, he said two words that caught my attention: Google and free," said Eric Killough, director of the Pratt Public Library in Pratt, KS. "Then he said that Goodwill was sponsoring the program, and I thought, there's a trifecta that can't be beat."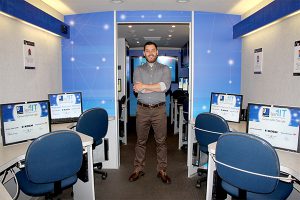 Killough worked with Goodwill to bring the van to town for a day to offer three classes. A total of 20 people attended — twice the turnout for most events at the library. Killough was so impressed with the facility and the instruction that he's planning to schedule another round of workshops in the fall.
Cathy Albert attended three classes in the mobile lab when it rolled into WaKeeney, KS, this spring. Albert works part time for the City of WaKeeney promoting travel and tourism, and she wanted to brush up on her digital skills. She enrolled in intermediate Word and Excel, and an introductory class on using social media.
"I learned some really good tips that will make things go faster in my job now," she said. "It was nice having the advantage to have it in your own town and not having to travel anywhere."
Word of mouth is helping spread the news about the mobile classroom, and Rupert hopes to circle back to the locations he's already visited to enroll new students and help take returning students to the next level of proficiency with their digital skills.
"Being able to bring new opportunities to all Kansans across the state is something that I'm truly thankful for and honored to be a part of," he said.