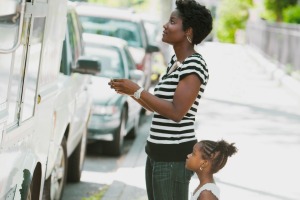 Goodwill Industries of Greater Grand Rapids (MI), in partnership with Grand Rapids Community Foundation, today announced plans to expand its workforce development program with the purchase of a food truck. Expanding Goodwill's successful social enterprise model, this food truck will offer Grand Rapidians an opportunity to eat locally sourced food while also supporting Grand Rapids residents as they develop skills that will help them earn a living wage.
"We are thrilled to partner with Goodwill Industries in developing a new model for social enterprise that we hope others can replicate," said Laurie Craft, program director of Grand Rapids Community Foundation. "The revenue generated by the food truck will cover program operating expenses, all the while providing opportunities for building skills that program participants can use to obtain living-wage jobs."
The average annual household income of workforce development program participants is $7,275. Food truck program participants will have the opportunity to develop the skills and certifications needed to land a job in the food service industry. Successful participants are expected to more than triple their income upon completion of the program.
Food truck program participants will receive a combination of classroom training and hands-on experience to develop the skills needed for employment within the food industry. Food truck workers will be trained in the areas of food prep, food safety, local food sourcing, customer service skills, food operation management, purchasing of commodities, and employability skills. Entrepreneurial skills such as budgeting, marketing, buying and managing a small business will also be learned.
"Goodwill is excited to enter this new venture. The food truck industry is a perfect extension of our hospitality and catering business line. This will allow us to expand our current services while, targeting a new market and earning additional revenue for our job training and placement programs," said Dave Brinza, chief operating officer of Goodwill Industries of Greater Grand Rapids.
The food truck menu will feature locally sourced ingredients and travel from event to event in Grand Rapids and surrounding areas, providing community members with a delicious food option that supports both Goodwill's mission of preparing people for employment as well as local food producers. 
The agency recently acquired the truck from New York and plans to launch operations on June 1.