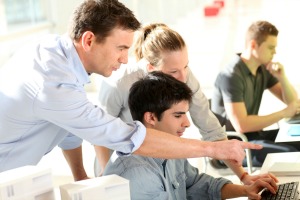 Goodwill Industries of Central Michigan's Heartland (Battle Creek) was recently highlighted in the Battle Creek Enquirer for the success of Goodwill Connects, which works to promote high school graduation, college and career readiness for students within the area's four public school districts. 
Ken Bauer, president and chief executive officer of the Battle Creek Goodwill, shared that Goodwill Connects actually launched at its midpoint stage in early 2014. The initiative was originally created as a corresponding year-long program to Essential skills Demanded by Great Employers (EDGE), a workforce development collaborative set up funded by a W.K. Kellogg Foundation pilot grant.
The program will formally kick off on January 28, 2015, as approximately 200 seniors and 50 juniors from local high schools congregate at the W.K. Kellogg Foundation's headquarters. At that time, students will have the chance to meet representatives of the city's top employers.
In late 2013, the Goodwill's leaders met with the local superintendents to determine whether the program should focus on connecting youth to jobs. 
"What we heard was that, of the 1,000 students who graduate each year, about 200 to 300 would benefit," Bauer told the Battle Creek Enquirer. "These were students who were getting subsidized lunches, whose parents weren't necessarily engaged, single-parent homes, kids who may be parents themselves, males of color, with variable housing situations."
The conversations resulted in the creation of a three-phase plan:
Phase 1 involves 24 hours of classroom-based training and employer visits for 250 students.
Phase 2 focuses on training in business-oriented "soft skills" as well as a summer work experience for 150 of the original 250 students.
Phase 3 enlists 40 to 50 local employers to provide gainful temporary work for a period of six weeks to 50 students. Those who complete the program could eventually receive a full-time employment offer.
"Having the employers give these kids the experience they might not otherwise get at this age is one of the best things that could happen," Bauer said. "It's absolutely wonderful that we're taking a younger generation that perhaps doesn't have an adult in their life to steer them toward making good decisions, and to have this program in place where they can meet people who will care about them and talk to them."
The article mentioned that this foundation-funded cooperative program is distinct across the Goodwill enterprise. Bauer hopes that the model will become more readily used to support the development of partnerships between schools and businesses aiding youth employment. 
For more information on Goodwill's youth focused programs, please contact GII Director of Mission Systems Michael Wood.