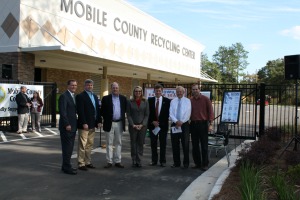 On November 20, the Mobile County Recycling Center opened its doors to the public in Alabama. This project will provide residents with an attractive facility at which they can drop off their recyclable material.
Goodwill Easter Seals of the Gulf Coast (Mobile) will operate and manage the facility with between four to eight staff and many volunteers.
A landscaped, sound-insulated recycling center big enough to handle the county's residential recyclables opened to the public following a ribbon-cutting and public tours of the processing facility and on-site classrooms. The center will be open seven days a week from 8 a.m. to 6:30 p.m. at peak operation, anticipated by the third year.
"Our organization has been helping people find new homes for their unwanted items for a long, long time.  In fact, we help Gulf Coast residents divert almost 2 million pounds of material from landfills every month. This recycling center is a new and exciting way for us to add to that," said Goodwill Easter Seals of the Gulf Coast CEO Frank Harkins.
The 15,000 square-foot building will take all drop-offs from Mobile County residents of plastic, aluminum, paper, cardboard, glass, electronics and non-alkaline batteries. Cost of the project is funded by a $2.7 million federal grant, along with a $141,000 grant from the Alabama Department of Environmental Management.
The recycling building features a brick façade and decorative stucco.  A roof-covered area creates a sheltered patio sheltered where the waste bins will be lined up.  Once filled, the bins will be rolled inside the building.  Tipping and sorting equipment will convey the contents into the appropriate processing machines to be compacted, crushed and baled. The bales facilitate shipping, which start at the four truck bays located on the south side of the building.
More than just a recycling center, the site provides classrooms and ultimately will feature a pavilion for school children to learn about recycling and its impact on the environment.