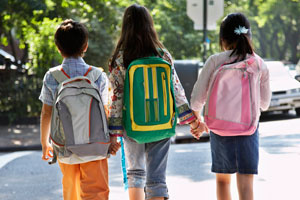 In preparation for the new school year, Goodwill Industries of Northern Illinois (Rockford) recently partnered with Project 16:49, a local nonprofit organization, to host a backpack donation drive benefiting Rock County homeless youth. Community members were encouraged to donate school supplies and nonperishable goods for the event at the Rockford Goodwill's Retail Store/Donation Center.
"Currently there are over 500 homeless youth in the Beloit School District," stated Courtney Geiger, the Goodwill's director of mission services. "Resources in the community and at the state level are quickly decreasing and Goodwill is proud to partner with Project 16:49 to benefit youth with this program."
The Goodwill was able to collect enough to assist approximately 75 homeless teens with the items needed to help them begin and stay in school such as food, backpacks and other essential supplies. Included in each backpack were food gift cards from local establishments and resource information for guidance in the future.
Goodwill Industries of Northern Illinois has also awarded seven local community colleges $31,500 in scholarship funds targeting persons with challenges to advance their education. Funds were raised from the Goodwill Diva Dress Sale and Fashion Show last April, enabling recipients to build a better future for themselves, their families and the community as a whole.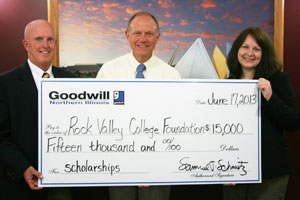 "This scholarship program is a perfect match for Goodwill's mission of helping individuals with barriers to achieve the dignity of work through advanced education," stated Sam Schmitz, president of Goodwill Industries of Northern Illinois.
Marshall Hayes, director of development for Kishwaukee College Foundation in DeKalb, IL, said, "These types of scholarships that are targeted to students with disabilities have a huge impact on those who receive them. We really appreciate the support of Goodwill and their commitment to keeping quality education affordable and attainable for all of our students".
This is the fourth year Goodwill has funded scholarships at community colleges within its territory; it has awarded $79,500 since the program began in 2010.