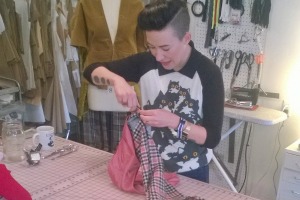 Michelle Lesniak, season 11 winner of popular TV show Project Runway, is using her high fashion skills to help raise money for Goodwill Industries of Columbia Willamette (Portland). The designer has created a coat from a collection of donated clothing. Her one-of-a-kind design is currently being auctioned on shopgoodwill.com.
The relationship with Lesniak began when Portland Goodwill's Copywriter Stacy Larsen, mentioned to the agency's communications team that the designer was a Portland native who had been an avid Goodwill® shopper from an early age. The team then approached Lesniak at her boutique two blocks away from their office and asked if she would be interested in promoting the agency's message. Soon after, the idea to design an upcycled jacket was born.
Lesniak, who frequently works with recycled materials,  incorporated wool, corduroy and leather into the oversized coat, which also features four pockets and a removable collar. The fabrics were obtained from four blazers found at nearby Goodwill stores.
Lesniak recently discussed her early experiences of shopping at Goodwill with local news station KATU.
"When I was in high school, Goodwill is where I would source materials for garments to repurpose," she said.
The décor in her southeast Portland studio gives a nod to Goodwill as well.
"Pick up just about any of the knickknacks and you'll find a Goodwill price tag!" she emphasized.
Shoppers will have until this Friday at 7:15 p.m PT. to place their bids on the coat. Spread the news and share this link with the fashionistas you know!