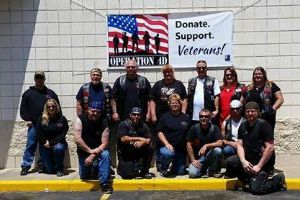 After serving our country and returning home, some veterans find themselves homeless.  Many receive help from local programs to get them back on their feet.  But, as they transition into their own homes, they often don't have a bed to sleep in or table and chairs.  Goodwill Industries of Michiana (South Bend) committed to resolving this issue by hosting a donation drive in partnership with the Combat Veterans Motorcycle Association.  The D-Day Donation Drive, called "Operation 4D" was the first partnership of its kind for the agency.
The event was held at multiple Goodwill locations in Indiana. The VFW Post 360 in Mishawaka also accepted Operation 4D donations that day during the same hours.  Furniture and household goods were the primary focus for this event; although all donations were welcome.
In appreciation for the donations received, the Goodwill provided in-store vouchers that veterans graduating from treatment programs could use to obtain needed household goods.  In addition to gently used items, each location accepted monetary donations.  The contributions were used to support veterans programming at Goodwill and other local organizations, including Miller's Vets, Kernan's Heroes, Jessie's Warriors and Life Treatment Centers.
The public embraced the partnership with open arms. This provided Goodwill with an opportunity to award the participating organizations more than $1,500 in Goodwill vouchers and funds to continue their mission. Local radio station WNDV-FM, known as "U93," also provided advertisements to promote the event earlier in the summer to benefit local veterans.