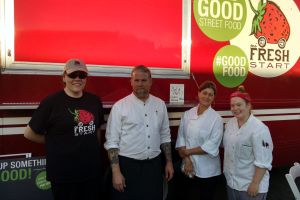 Between June 16-19, Goodwill Northern Michigan (Traverse City) and its Mi Fresh Start food truck kicked off summer with the "Celebrity Chef Week" cook off. The winner earned the title of "Good Chef – Chief in Charge of GOOD."
Local chefs from the Grand Traverse region representing four prominent area restaurants (McGee's 72, Hofbrau, Pearl's and The Cooks' House) took over the Mi Fresh Start food truck to create and serve a daily specialty menu. More than $7,000 was raised to support the Goodwill's Mi Fresh Start hospitality job training program. The winning restaurant, The Cook's House, brought in $2,000.
"We couldn't be more pleased with the support shown from our local restaurateurs and their commitment to helping others do GOOD," said Cathy Cooley, manager for Mi Fresh Start. "They continue to offer opportunities for hands on learning for our trainees to get GOOD jobs to learn, grow, and sustain a career that also helps our local food economy continue to prosper."
A finale event took place on June 20 at Fustini's Oils & Vinegars, 2015 summer menu sponsor for the Mi Fresh Start Food Truck.  A breakfast menu will be served and the winner of the "GOOD Chef" title, based on the most donations (daily food truck proceeds) to Goodwill's Mi Fresh Start hospitality job training program will be announced.
"Fustini's has really embraced our hospitality training program," said Cooley. "As our food truck summer 2015 menu sponsor, they have really stepped up to serve as a mentor in many ways, helping our team to create healthy menu options to serve good food to good folks."