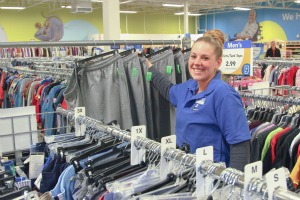 ForTheFit.com, a company that designs, manufactures and sells short men's clothes (under 5'9") and tall men's clothing (over 6 feet, slim to big), recently donated 1,400 pairs of new athletic pants to Goodwill Industries of Northern Michigan (Traverse City). The pants, which are made of heavy fleece and jersey, regularly retail for $53,200 — or $38 per pair.
Consuelo Bova, CEO of ForTheFit.com, approached Goodwill Industries International in late November about the donation. The donations were directed to the Traverse City-based Goodwill due to the organization's proximity to where the pants were being warehoused.
"I've been fortunate to visit Traverse City and get to know the community a bit since we started warehousing merchandise here" said Bova. "Traverse City is a special place, and unlike Florida, where our corporate offices are located, it can get quite cold.  I am grateful to have the chance to make a gift of nice warm fleece to this special community right in the midst of the holiday season."
Bova noted she's always donated to Goodwill stores on a small scale, and added, "This time, it was incredible to have the opportunity to donate on a much larger scale, since ForTheFit's donation could impact so many more people and do some real good."
Donations like those provided by ForTheFit.com, support Goodwill in its mission of helping people overcome challenges to employment and access the education and job placement resources they need to succeed. The sale of the donated pants will help Goodwill provide up to  197 hours of career service support for people in the Northern Michigan area.
 "We're thankful for this high quality donation which adds to the great value our customers have come to expect from our stores," said Goodwill of Northern Michigan Director of Retail Operations Ray Steffner. "It also further impacts our mission, with every purchase providing an opportunity for our neighbors by funding our programs in jobs, housing, and food throughout our Northern Michigan communities."
To learn more about how companies can work with Goodwill, contact the GII partnerships team at [email protected].