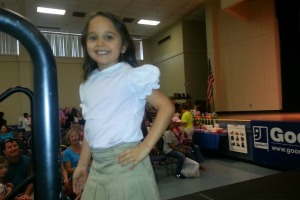 Goodwill Industries of East Texas (Tyler) showcased the latest trends in school uniforms, casual dress and outerwear during its back-to-school fashion show held on August 14. The show was a part of the city of Tyler's first #SchoolisCool event which helped prepare children and parents for the new school year.
Tyler Goodwill models of all ages strutted their runway fashions throughout the evening, showing parents just how budget-friendly school clothing could be at their local Goodwill store. In addition to the fashion show, the Goodwill hosted a "pop-up" store featuring uniforms, fun styles and new goods such as backpacks, locker décor and other school supplies.
"We could hardly keep up with the customers and their questions about Goodwill at this event," said Wanda Welling, director of donated goods. "The children were so excited to see all of the wonderful items, and the parents loved the affordability. We had never tried anything like this before and we learned a lot! Everyone had a great time. "
The free event also featured several "neighborhoods" related to different back-to-school needs. Resources available included health care services, such as immunizations, free dental screenings, fingerprinting and safety education; college preparation; school lunch registration and haircuts.
Shannon Carter, the Goodwill's community relations specialist, explained that planning for the three hour event had been underway since spring. A 30-member committee began organizing #SchoolisCool after the education chapter of Tyler's city improvement council generated the idea.
"Goodwill was on board immediately when we were approached about participating," she said. "We loved the fashion show idea and began to get creative about the layout for the store.  We also decided this was a great opportunity for ComputerWorks and our GoodAssist program to gain more exposure in the community. Goodwill's mission was well represented by both our goods and services."
Approximately 4,000 people were estimated to be in attendance. Participants commented not only on how much fun they had, but also how the activities all contributed to assist those who may not have been able to start their first day of school prepared with what they needed. The City of Tyler PTA, Tyler ISD and the Tyler Area Business Education Council plan to host #SchoolisCool as an annual event, and the Tyler Goodwill plans to participate again in the future.