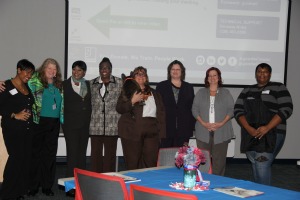 On October 22, Goodwill Industries of Northwest North Carolina (Winston-Salem) held the Women's Employment and Empowerment Symposium to serve female veterans, service members and others in the community. The first-ever event welcomed about 30 participants.
The event included an "ask the employer" panel and roundtable discussion, an empowerment luncheon with business coach and speaker Angela Wilder, and workshops on how to find employment resources, navigating the USAJobs website, and personal branding. Attendees could also attend a hair and make-up makeover, complete with a new outfit from Goodwill's Success Outfitters program. The women modeled their new looks at the end of the day at a fashion show.
Winston-Salem regional VA Director Cheryl Rawls welcomed the women at the beginning of the day. Rawls recalled that, when she left the Army 20 years ago, "No one told me about panel interviews where you're competing with someone else for the job. No one told me you'd have to go through three or four interviews. In the army, they look at your file and say yes or no," she explained, while women around the room nodded in agreement. She encouraged women to use this event to build a team and support system.
The Winston-Salem Goodwill is an Operation: GoodJobs subgrantee, which is funded by Walmart.