If you're an avid thrifter, you'll probably think of Goodwill right away when it comes to shopping, no matter the occasion. But as back to school season approaches, you may find yourself even more eager to browse the aisles for great deals on necessities for the upcoming year. Goodwill organizations support mission services through the sale of donated clothes and household items at more than 3,200 Goodwill stores and online through shopgoodwill.com, the first nonprofit Internet auction site, and through contract services, private and public grants, and individual giving. With so many places to shop and a steady stream of new donations coming into those stores, Goodwill will never give you that all-the-good-stuff-is-gone panic attack you might have when shopping at big-box stores the week before the first school bell rings. To help you get ready for the new semester, here are a few of our favorite back to school finds…
I love this back to school thrift haul video from Got It at Goodwill! On top of a $400 bag which she scored for only $10, the video-blogger also found a huge array of cute clothes and shoes to start her school year off on the right foot. As a teacher, she talks about how important it is for her to find versatile clothing that is easy to move around in while still maintaining a professional appearance. But students, too, can find just what they need to update their wardrobe without spending a fortune. You can see in this video how many fashionable pieces are just waiting to head to a new home. As parents know, kids can grow a lot even just in one school year so second-hand goods are the perfect way to save money, be prepared, and minimize your family's environmental impact as this new season starts.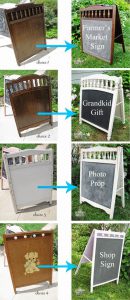 Image via prodigalpieces.com
Speaking of how quickly kids grow, have you seen those first day of school vs. last day of school picture comparisons? These days a lot of parents are snapping a photo of their kids heading off to start the new school year then taking the same photo again when school lets out in June. Putting these two pictures side-by-side creates a great visual of the child's growth that will just tug at your heartstrings, especially as the years stack up. To take this sentimental project one step further, I pulled inspiration from Goodwill of Southeast Georgia (Savannah)'s Craft Ideas pinboard where they shared this fun DIY chalkboard prop! For consistency throughout the school years, you could make a standing chalkboard like this from a Goodwill baby crib, drying rack, or garden trellis to have your little book worm to stand next to.
On it, write the grade they're entering or graduating from, their age, height, favorite subject, or whatever you want! This is such a smart way to keep track of the seasons as they speed by and it would be so special to see every photo lined up at high school or college graduation!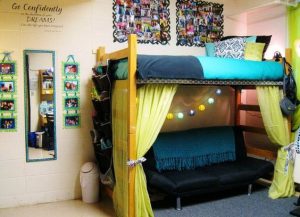 Image via pinterest.com/GoodwillINW
When those high-school grads do head off to college, another huge back to school expense awaits: outfitting their dorm. Goodwill to the rescue again! With dishes and cleaning supplies ready to buy, parents will know they're setting their kids up for a smooth semester. Students themselves might be more excited about furniture and decor for the dorm so, if that's who you're shopping for, make sure they check out this Dorm Decor on a Dime pinboard from Goodwill Industries of the Inland Northwest (Spokane) for ideas. It's easy to pack a lot of personality and functionality into a small space by using some of the techniques (like this well-dressed loft bed and futon layout) shared there!
Once you've got all of your back to school style and supplies ready to go, the only thing left to do is mentally prepare yourself (or your kiddos) for another year of schedules and studying. Unfortunately, we'll have to leave that part to you. But we will send our wishes for a successful school year and you know where to find us when you think of that one last thing your child needs before they can go back to school.