The perfect pair of jeans is an elusive beast. They're the real-life woman equivalent of Cinderella's glass slipper, but much more durable and definitely more practical. (I mean, did her slippers have pockets? For real.) Sure, jeans can be fancy, unique, and swoon-worthy on the hangar or other people's bodies. But if the jeans don't feel good on us, and look good on us, the whole deal is off– designer label or not.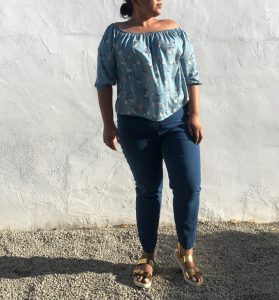 Credit: @sincerely_margot18
I found myself in a Goodwill in Southern New Jersey this week while visiting relatives, on a trek to find some back-to-school clothes for my oldest (see my previous blog post!). But alas, once I stepped inside, I found myself a bit denim-curious. Back-to-school season always makes that happen, I guess. Besides, it's always fun to see what jeans people are digging in other parts of the country, so I took a quick spin down the aisle.
Around 450 million pairs of jeans are sold in America each year, so there's always plenty of selection to choose from at Goodwill®. I'm a dark wash kinda gal, so that always narrows the plan of attack a bit. When I spotted a pair marked "Extreme Motion" and "Modern Series" that had a soft inner elastic waistband, contrasting zipper, stretchy feel and actually looked like they'd fit over my post-two-kids sized rump, I had to give them a go. Next up, a few hangars down, a pair of LOFT Plus jeans– in my size! For those who don't know, Loft (and a few other top labels) just launched their plus line about a year ago, and this was my first sighting of them in the secondhand wild. Into the shopping cart they go– obviously!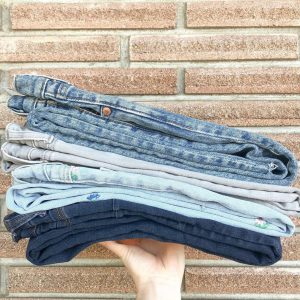 Credit: @redheadedthrift
The funny thing is that mom jeans are apparently a thing again now (really, young'ins?) and that means great vintage jeans to be found for those lusting for some high-waisted blues. Sometimes you're even lucky enough to find a vintage pair that are super rare, like she did!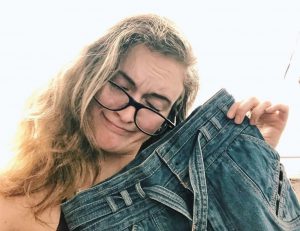 Credit: @weirdgirlvintage
The best part about buying used denim is that THERE ARE SO MANY BEST PARTS about buying used denim! It's timeless and recycles cotton, rather than sending it to landfills. That's important because growing cotton is taxing on our soil to grow and on our environment to manufacture. The fact that Goodwill jeans are pre-loved usually means they're broken in JUST right from the get-go. Plus, you can't beat the price of Goodwill denim over new. Not to mention buying denim from Goodwill helps people in your community.
Find yourself with too much denim on your hands? Donate your old ones to make space for the ones that make you feel good. Plus you'll be helping to create opportunities for people in your community to find jobs, build skills, and earn skills that will give them a hand up– and that's something that always looks good on you.