It's that beautiful time of year again when we ladies look forward to celebrating "ovaries before bro-varies" with our besties on Galentine's Day.
What's that day you ask? Oh, it's only the best day of the year. If you were living under a rock in 2010 you can get caught up to speed by watching this episode of Parks and Rec. And even if you already know what Galentine's Day is, you should watch it again anyway just for good measure.
As Leslie Knope said, "It's Lillith Fair, minus the angst. Plus frittatas."
So this February 13th, whether you're leaving the husbands and boyfriends behind to go brunching in-person– or keeping the germs at bay with a virtual celebration with your poetic noble land mermaids, Goodwill has your back to celebrate putting uteruses before duderuses.
Let's talk flowers. Every Galentine knows the importance of DIY crafting to the whole brunch tablescape experience. So of course, Goodwill can help you find the perfect vases– and even books and magazines that you can create a lovely upcycled bouquet with–one that's definitely worthy of your favorite beautiful sun-goddesses. Like this one!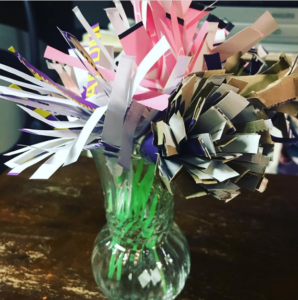 Credit: deestroi85
On to Galentine's toasts. Obviously, you'll need a decent chalice or two for your mimosas, which obviously can be reused later by all your Galentines as they sip and read their 5,000 word essays about how awesome they are. This lovely Goodwill find would be a perfect addition to your brunch table.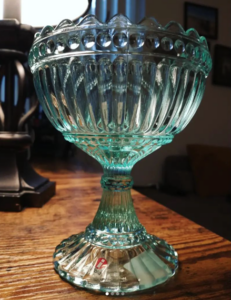 Credit: Toshthethrifty
Moving on to gifts, because of COURSE there are gifts, it's time to think outside the heart-shaped box and get something your land mermaids will love that's unique to them. It may not be a mosaic portrait of each of them made from the crushed bottles of their favorite diet soda, but this little trophy found at Goodwill is a great way to personalize your Galentine's gift game. Can't find one that already has a nifty title on it? Buy a used trophy and create your own new placard for it. No rainbow-infused, space unicorn friend would have a dry eye receiving that Galentine's gift.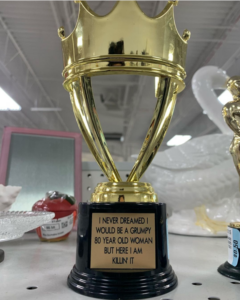 Credit: Lesongstress
The best part of Galentine's Day is simply lifting up those who mean the most to us, which is exactly what Goodwill does every day. When you buy any of the gently used items at Goodwill, you're supporting neighbors who need it through job training programs that Goodwill's network of 155 organizations help. That's more than 123,196 people in the US and Canada!
Celebrating never felt so good– or as sustainable– as it does when you get your Galentine's goodies at Goodwill. For all your Valentine's Day shopping and more, find a Goodwill store location near you. Feeling inspired? Tag @goodwillintl in your next post for a chance to be featured in a future blog!