With Saint Patrick's Day – and spring – right around the corner, it seems that green is starting to sprout up everywhere you look. Regardless of your St. Patty Day plans, Goodwill has got you covered when it comes time to find the perfect green-inspired outfit. Plus, when it comes to shopping at Goodwill, you're doing a favor to your wallet and the environment – so that's double the green for everyone!
Knowing that Goodwill is an environmental pioneer and social innovator in the "reduce, reuse, repurpose" practice, makes me feel all the better about popping in and out as frequently as I do, scoring some amazing finds that help elevate my look for any occasion. I love seeing everyone's hauls from Goodwill, so when you're showing your new look off on Instagram, be sure to tag @goodwillintl in your photos and you might be featured in a future article!
Below, I'm sharing some of my favorite Goodwill finds that I've seen so far this season, that would be perfect to take any St. Patty's Day look to the next level. Oftentimes, Goodwill stores will separate merchandise by color, which makes searching the racks for your perfect find all the easier!
1. Statement Shoes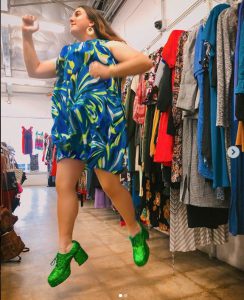 Photo: @safetytess
I love how this thrifty shopper is jumping for joy at this fun, glittery Goodwill find, which also happened to be in her size. These shoes are the perfect accent to brighten any outfit, and are especially fun for a St. Patty's Day look.
2. Accent Skirt
Photo: @taylor_made_style
With a pop of color, you can make any outfit more fun. I love how this skirt is so versatile. You can wear it for St. Patrick's Day, and then later repurpose it for everyday looks! If you're like me and find yourself wearing a lot of neutrals or blacks, adding some green to your wardrobe can help you transition your wardrobe from winter to spring.
3. Silky Greens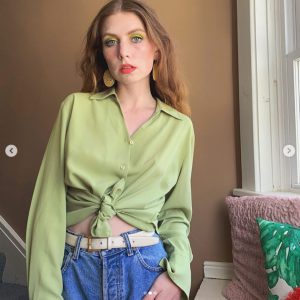 Photo: @_aerinatelier
This '80s inspired silk shirt – or even better, since it's thrifted, maybe it's an '80s original, can be worn for any occasion this spring. I love the look of the DIY crop with high waisted jeans and matching eyeshadow and think it would work as a great day-to-night outfit as well. This entire outfit is timeless and applicable to any occasion.
4. Elegant Emerald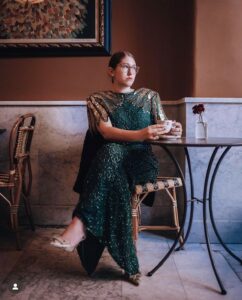 Photo: @stylishlytaylored
If you have some exciting plans to celebrate the luck of the Irish on the docket, Goodwill is a great place to look for an affordable, stunning evening gown – just like the one in the photo above! I've found some great dresses at Goodwill over the years, and they're always in incredible condition. The one above is a perfect celebratory look, and whether you're staying in or going out, what better excuse is there to dress up than a holiday?