By Felicia Czochanski
As the seasons shift, the urge to clean and make room for new space starts to rise. More than decluttering clothes and that one kitchen junk drawer that's always too full, there's a lot to be said about the décor atmosphere in each room of your home. Tackling this corner by corner can help you see your space with a new perspective. You may have thought something was off for a while, but you might not have realized exactly what until you focus in on it. Sometimes, it's a small shift that can make all the difference.
Shopping second hand can be an amazing option for upgrading so many different parts of your life – your wardrobe, for one, can be elevated at Goodwill with so many designer finds waiting to be picked up off the racks. You can fill the gaps in your bookshelf with amazing second-hand reads from your local thrift store, at the cost of just a few dollars per book. And you can also give your space a furniture update, by browsing the incredible collection of modern, vintage, and antique furniture that you can find at Goodwill.
Thrifting furniture can be a fun way to make your at home vibe truly unique. Once you come across a special find with a lot of potential at Goodwill, you can take it home and make it your own. A recent 'aha' moment was realizing how many amazing lamps can be found in the furniture section of Goodwill. Whether you're looking for a certain type of base, or a lamp shade to match a base you already own, you never know what you might find and the power it could have to transform your space.
But don't just take it from me! Keep reading to see how real Goodwill shoppers transformed their spaces with the help of a unique second-hand lamp.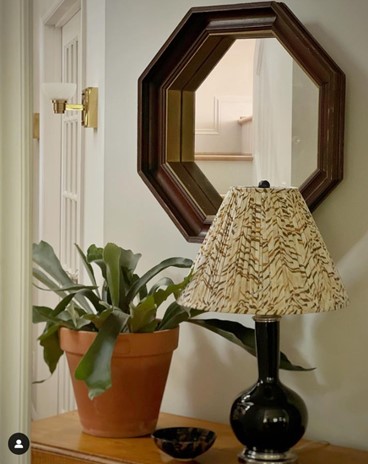 Photo: @ashlyngolberg
Statement Base
This thrifted lamp stands out on the console table, just like it did on the shelf at Goodwill – and contrary to what you might initially think, it's not because of the patterned lampshade. The base of the lamp is the statement part of the structure, with a polished onyx feel and mix of gooseneck and orb shape. It's because of the base that you can tell this lamp has character, and likely retailed for a pretty penny. It's also versatile enough to hold a patterned shade like the one in the picture, that pulls together the console table look, but should the lamp be moved to another room, it could support a more elegant shade as well.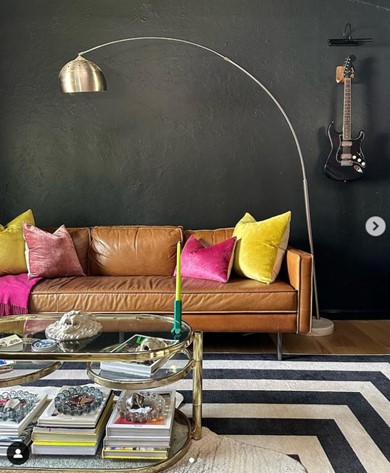 Photo: @kariealleninteriors
Dramatic Arch
Illuminate the accents in your space with a dramatic gooseneck arch that's taller than you and spans the length of half your couch. This type of lamp is extremely trendy, but that doesn't mean that people aren't donating older models to Goodwill, especially near the end of the month around the time leases are up. Find the perfect lamp for your space, and the accessories to go along with it – like these beautiful coffee table books and pop of color pillows second-hand and spruce up your space for spring for a fraction of retail price.