When I first spotted these three items at a Goodwill® near my studio, I thought I'd have two projects to share. I was going to paint the lamp base a shiny silver, add the magenta shade and call it a day. Then, when I thought about painting the walnut lamp base, it didn't seem right; nor did it seem like it would improve the lamp in any way.
After consulting with my next door studio neighbor, who happens to be a talented stylist and designer, we decided on a project that included all three items in a high-impact bedside table arrangement that anyone would be proud to show off.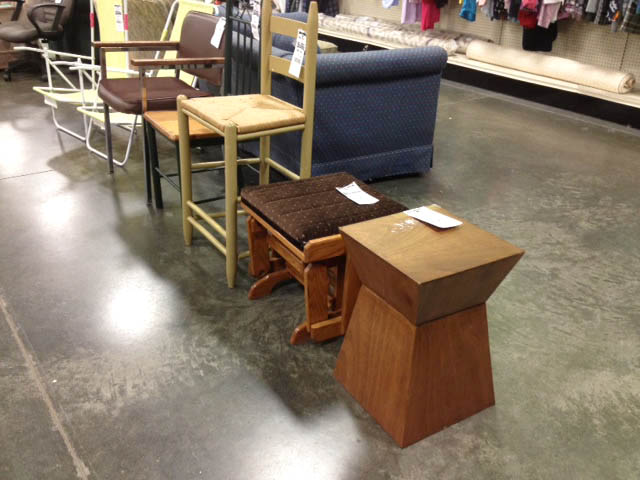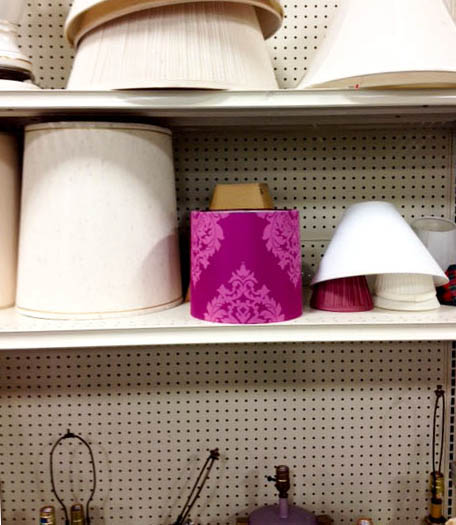 Grabbing the table at the store was a no-brainer, since this shape is one that can be found in the trendiest décor magazines. The fact that it's not solid wood makes no difference—it looks like wood!
The table top needed a little bit of cosmetic work, and one of the corners had been dented in, causing a raised bump on top.  All I had to do was remove some glue residue on the top and sand down that little corner bump.  My stylist friend and I decided that we wanted to maintain the wood grain around all the surfaces, but that the top would have to be painted, or possibly decoupaged.
The lines are very mid-century, so I decided on painting it. A bedside table endures water glasses, canned sodas, and all sorts of wear and tear, so a good primer and a shiny white lacquer was all there was to it.  To keep the spray paint off of the side surfaces, I taped some trash bags around the top edge with painter's tape, making sure only the top surface would be exposed to the spray primer and lacquer.
I adore how this little bedside vignette turned out. Altogether, it only cost $35.98, plus tax and the cost of paint, to create this designer dorm room set up. My question is, how can anyone NOT love to shop at Goodwill?  When you know what to look for, it's so much fun to go hunting to see what others have given up and you can use, not to mention how much money you save.
The absolute icing on the cake is that Goodwill has a multi-level mission that serves in so many ways. For instance, Goodwill provides support services — including child care, financial education, transportation, youth mentoring and other services for youth and families — that enable people from all backgrounds to obtain and maintain economic independence and an increased quality of life.