Is it just me, or does the first warm day get you excited to shop for spring trends? In New York City, Fashion Week just ended, getting everyone excited for fall and winter styles for the upcoming year. This was the first time I'd had the chance to go to some shows in person since 2020, so it was especially exciting to see the fashion community showing up dressed to the nines in some awesome looks that showed they were also ready for spring.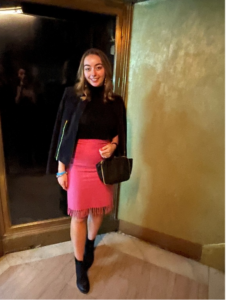 When it comes to NYFW, I have a rule for myself that at least one item in my outfit needs to be thrifted for each day I'm in attendance. This year, feeling a little out of practice, I stood in front of my closet thinking to myself, "What's something interesting that I've found at Goodwill lately?" The result: this amazing wool-blend bubblegum pink BCBGMAXAZRIA skirt with fringe detailing on the bottom (style alert: fringe is going to be big this spring!). I actually found this skirt on a very rewarding trip to a Goodwill in Chicago last summer and had never had the opportunity to wear it until the fashion show this month.
Wondering about what fun fashion trends you can pull into your wardrobe this spring? Check out some fun pieces found at Goodwill below! And remember, shopping second-hand at Goodwill is not only a wallet-friendly alternative to shopping new in other retail stores, but proceeds from your sales also go towards helping your local community secure jobs and participate in necessary trainings.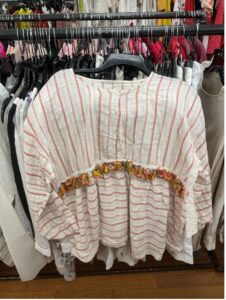 1. Fun Fringe
It's just your everyday blouse — made more dramatic with fringe! I'm obsessed with little details, whether it's fringe or another embellishment. These details can turn an average item into a statement piece — so I love that it's back in style for spring and summer! After fashion week, I took a trip to the local Goodwill in Midtown — NYC commuter friends, shoutout that the Goodwill on W. 25th Street (right by Penn Station) has such a wonderfully curated designer collection. Here, I found some fun pieces to style for warmer weather that go with this trend. Just like this awesome cotton and linen blend shirt from Italy that comes with a belt made from fringe-fabric and is reminiscent of a piñata. Bring that statement piece from the city to the shore!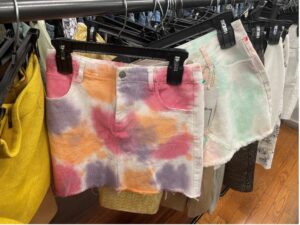 2. The Return of the Mini Skirt
This fun trend is so versatile because mini skirts come in so many different styles and colors. A big trend for spring is not only the short skirt, but also more of a "destroyed" look to fabrics. That could mean something that comes in an acid-wash style or, for brighter vibes, bleached tie-dye like the fabulous mini skirts in the picture above. The second one is even new with tags!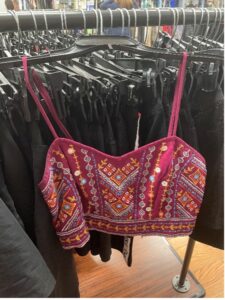 3. Bra Tops
Not only will this spring be the season of the short skirt, but it will also be the season of the even shorter top. This is a reminder that bra tops are back in style — out with the crop top and in with the bra top! I love this bright fuchsia design with colorful embroidery and embellishments. Pair it with one of the black mini skirts hanging up behind it and you're ready for a night out!