By Felicia Czochanski
One of the best things about shopping at Goodwill is experiencing the search for the unexpected. There are so many possibilities within the shelves and racks of a Goodwill store, and sometimes the surprising item you find could be a new wardrobe staple or the foundation for your next go-to outfit. Many times, this has been true for me. When I'm putting together my looks for New York Fashion Week or looking for something unique and festive around the holidays, Goodwill is my first stop. I've found so many of my favorite wardrobe pieces at Goodwill in this way, by luck, and I wouldn't have it any other way.
When I go into a Goodwill store, I feel the excitement of knowing there's at least one great designer item waiting to be found. I primarily shop for second-hand luxury looks – and over the years, I've found incredible items from Prada, Gucci, Missoni, Loeffler Randall, and Rebecca Taylor among so many others, for just a small fraction of their retail price. Donating and shopping gently used second-hand items generates good fortune because it contributes to the local circular economy. This means people are able to declutter their homes while still keeping materials out of landfills by donating them to Goodwill, where other people are able to purchase them at an affordable price, the proceeds of which go back into the community by funding job and skill training and employment opportunities through Goodwill. With this in mind, a trip to Goodwill can mean so much more than an awesome designer score, because your purchases help others in need.
Let Saint Patty's day be a reminder of the importance to giving back to your community and the power of lucky finds. Below, I'm sharing some of my favorite recent lucky designer finds from a Goodwill shopping trip!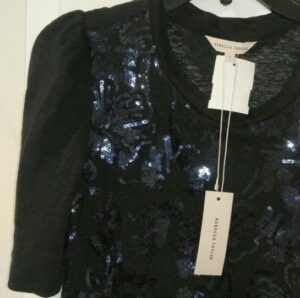 Sequined Rebecca Taylor Blouse
I love scoring anything Rebecca Taylor at Goodwill, because I find her style so classic and beautiful. It's even better when what I find is new with tags! I love adding a little bit of sparkle to life, so this sequined top was an easy purchase decision for me.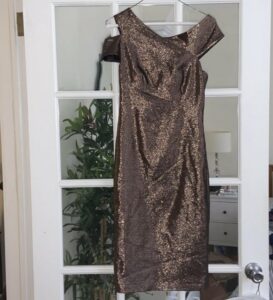 Ted Baker Metallic Dress
Pretty sure that I spotted this gorgeous, classy cocktail dress from across the store. I bought it to wear to my friend's wedding next fall and it is in perfect condition. The material is beautiful, soft on the inside and shiny on the outside. It's the second Ted Baker item I've found at Goodwill – the first was a clutch – and I snagged it for a steal of $7.99.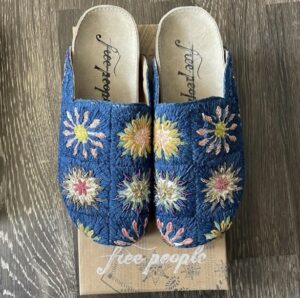 Embroidered Free People Mules
It's rare to find a pair of shoes still with the box at Goodwill, but this pair clearly had my name on it when I got into the shoe section. I happened to be in the store on a big restocking day, and bins were out on the floor with inventory that had yet to be moved to the shelf. I snagged this pair before anyone else even saw them, and can't wait to wear them all spring!
Do you have favorite Goodwill lucky finds to share? Tag us at @goodwillintl for a chance to be featured in a future post!