Every year at about this time I start to really miss greenery. Although I can see plenty of trees from my windows (the cold generally keeps me inside), their dreary, skeletal branches do nothing to refresh me. So, in an effort to enjoy some greenery, the winter months tend to introduce new plants into my home. With a busy schedule and my black thumb, I need to choose plants that don't require a lot of care. Enter the super popular succulent! Here are three ways to style it:

Image via annmarieloves.com
The beauty of these little darlings is that they are well priced and hearty. This means you can pick one or two of our succulent DIY projects – or all three – and spread them throughout your house. Let's start in the kitchen with these sweet little friends nestled into a muffin tin. Ann Marie of the blog Ann Marie Loves said that she immediately envisioned this DIY project while she was scanning the shelves of her local Goodwill® and smacked eye on this tin. A quick hole in each pocket and some adhesive bumpers allow for proper drainage and just like that a new centerpiece is born!

Image via goodwillakron.org
Now on to the living room… what's better on a cold winter's day than seeing a steaming mug on the side table as you snuggle into the couch for a movie? Maybe a decorative mug planter? (Only because its contents last longer.) Katie from Goodwill Akron (OH) styled some plain white mugs she thrifted with an Easter egg decorating kit that she found on the same trip! This is such a fun and easy way to customize your new planters for your own style or for a friend and it wouldn't take much time at all.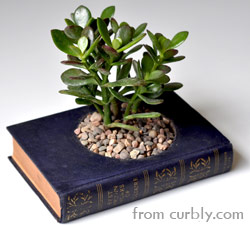 Image via curbly.com
And finally, a stop in the bedroom… Books are a staple on my nightstand. There is always at least one, sometimes as many as three, waiting to bring me to dreamland. That's how I know that a second-hand book turned planter would feel right at home on my bedside table. Goodwill serving Eastern Nebraska and Southwest Iowa (Omaha) shared this idea on their blog, but also mentioned how this project could serve as a great icebreaker or focal point in the home, too. Choosing a thrifted copy of one of your favorite books (so you don't have to destroy your copy) would be a great way to spotlight your tastes without losing your most treasured reading material.
But before you head out to your local Goodwill in search of unique planters, gather up a few things to take with you for donation. When you donate to Goodwill, the donation has the potential to help someone find a job, strengthen a community, and preserve the planet. Plus, combing through your belongings now will help to keep away the cabin fever and make more room for some beautiful new botanical buddies!