For those with a creative spirit, Goodwill® is so much more than just a thrift store; it's a supply shop! Anyone with an artsy disposition will walk through the aisles and see not just cast-off clothing and housewares, but hundreds of possibilities! Through its entrepreneurial business model of collecting and selling donated goods, Goodwill helps communities extend the life of usable items in environmentally sound ways and prevents them from piling up in local landfills. You can do your part to support this mission by engaging your inventive abilities to take some thrift shop basics from bland to bold. Oh yeah, and you'll beautify your home in the process! Here are a few examples…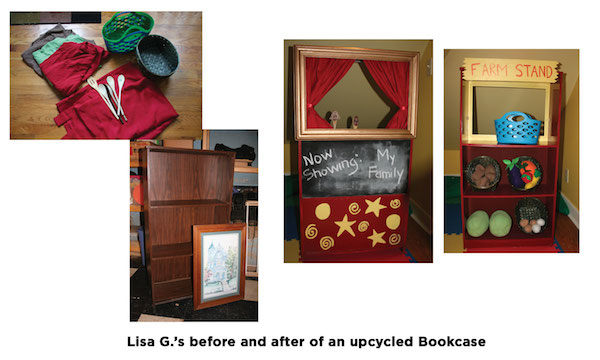 Photo by goodwillvalleys.wordpress.com
Goodwill Industries of the Valleys (Roanoke, VA) recently held an upcycling contest to see just how crafty its customers could be. You can view the top four projects right here in this blog post. My favorite? The plain (dare I say "boring?") bookcase that Lisa turned into a puppet theatre and play farm-stand combo! Now that is interactive home décor and just one example of how a Goodwill basic can be turned into something really incredible.
Photo by blog.ocgoodwill.org
Feeling inspired yet? Grab some painting supplies and two already embellished canvases from Goodwill and let those artistic juices flow! Janeane of Goodwill of Orange County (Santa Ana) shows the DIY process behind her "Bird On A Wire" work of art. Her tutorial breaks the project down into steps that anyone can successfully complete. Of course, if putting a bird on it isn't for you, we encourage you to harness your own muse and paint whatever you'd like! You will be surprised at how easy it is to create your own unique adornments without breaking the bank.
Video by The Fashion Citizen on YouTube
But don't feel limited to the furniture and décor sections when you step into your local Goodwill eager to create. Make sure you sift through the clothing racks, too! Melissa of The Fashion Citizen posted this video of her Goodwill haul (she scored 10 great finds for under $30!). Most of her spoils are classic styles that she plans to remake: a pair of boxy shorts will soon be distressed, her new jeans will be cropped and frayed, and a long-sleeve tie-dyed top will be transformed into a halter. As you can tell from watching her video, she trusts Goodwill to bring her the basics that she then curates into her unique thrift-chic closet. There's something so inspiring about seeing the possibilities in so many different styles, isn't there?
Video by The Fashion Citizen on YouTube
So the next time you are out thrifting, make sure you keep an open mind. If you like the pattern on a shirt but don't love the style, consider how a few snips and stitches might improve it. (And save it from the landfills!) Look for furniture that could be repurposed to better suit your needs or for paintings that you could remake according to your own theme. Have fun and don't forget to show us your finished products!