By Felicia Czochanski Bisaro
As summer draws to a close, beach days turn into back to school shopping as a new school year approaches. The anticipation of starting another year of classroom learning can cause mixed emotions, for both children and parents. Some children may look forward to seeing friends more regularly, while others may feel more wary about saying goodbye to a summer of fun and returning to a structured learning environment. Either way, as a parent, there are many ways to help your child reignite their love for learning.
Remember that you can shape how your child feels about going back to school this fall. It can make a world of difference to cultivate excitement prior to the first day of school to mitigate any nerves that may come up that morning. An awesome way to do this is to boost your child's confidence as they head into a new year by treating them to a new back to school outfit that makes them feel ready for anything. This doesn't have to break the bank either, especially if you shop smarter at your favorite Goodwill store.
Goodwill is not only passionate about making education accessible, like supporting local communities with skills courses and job training, but it is an amazing one-stop shop for back to school outfits. Take a look at some of the incredible finds from my favorite Goodwill store in Brooklyn, New York for inspiration on first day of school outfits for your child that they'll find fun, comfortable, and on trend.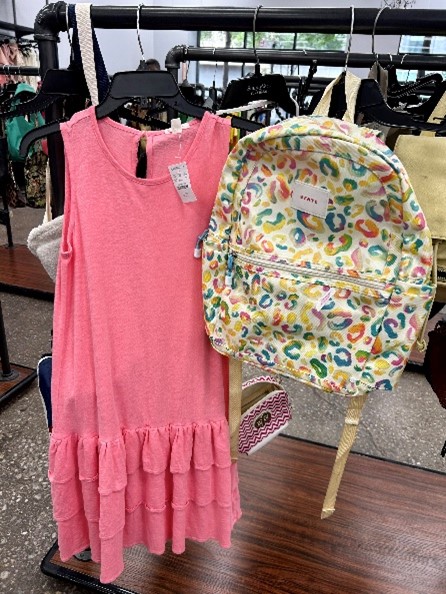 Fun Statement Dress and Matching Backpack
Shopping at Goodwill doesn't always mean second-hand. In fact, so many of the amazing finds I come across in store still have the tags on them and have never been worn! There are so many reasons why people might donate new with tags items to Goodwill, most commonly because they missed the return window and the item might not have fit. Take advantage of that as you look through the racks! This dress is great for the first day of school, especially with the statement ruffle and matching backpack as an accessory. Depending on the weather and dress code, you may want to send your child in with a sweater as well.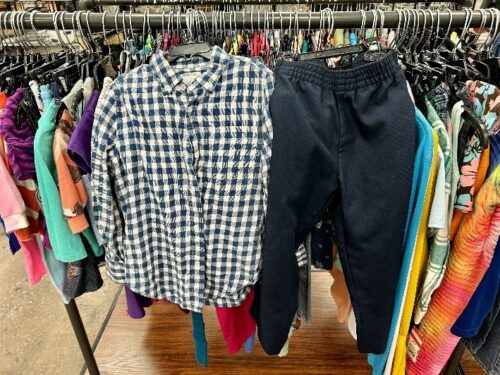 Classic Plaid Button Down
Nothing tells teachers and fellow classmates that your child means business and is ready to work hard this year like a classic button down shirt. This outfit is sure to make a great first impression and help your child kick off the school year on the right foot!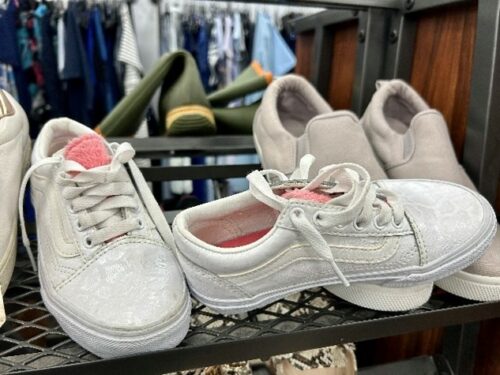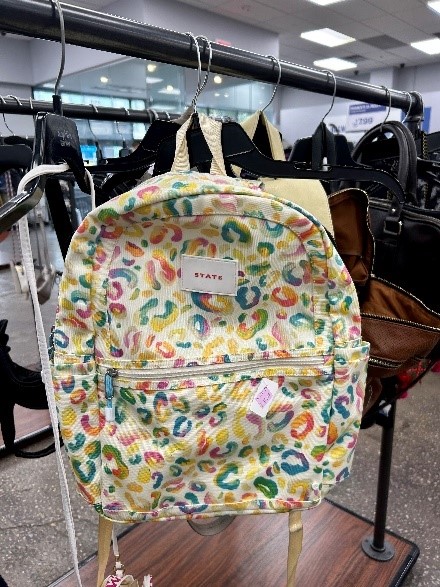 Awesome Accessories
Investing in cool accessories is important because they can be worn more frequently than a statement outfit. Accessories can be a great confidence booster for your child – think 'lucky shoes' or 'lucky backpack.' With luck on your side, you'll come across amazing finds in your child's size at Goodwill, like this adorable pair of sneakers with a subtle cheetah print and statement pink sneaker tongue and steal of a STATE backpack found on the handbag rack.