By Felicia Czochanski
Celebration season has kicked off, and that means figuring out party planning logistics is in full swing. Whether you're celebrating a birthday, wedding, or baby shower, the end goal is likely the same – to create a beautiful, personalized day that makes the VIP of the day feel loved and special. There can be a lot of pressure on creating the perfect celebration, down to the centerpieces and party favors, and it can easily get costly too. But with a little creativity, and the help of smart second-hand shopping at your favorite Goodwill stores, you'd be amazed at what you can put together without breaking the bank.
Party favors are an important part of any celebration because they show gratitude for each guest's presence at the event, while also giving them something to take home as a reminder of it. It's easy to remember how much fun it was as a kid to open up a goody bag after a birthday party once you returned home, and it almost was a way to keep the party going. As an adult, there are ways to get the same feeling from a party favor, if the favor is more thoughtful and not something that people will not be able to use and will eventually need to throw out. Unfortunately, many times this is the case for things like favors and seasonal décor, contributing to growing landfills. Party hosts want to send guests home with something, however finding that item that will be welcomed by many different guests can be difficult without a lot of thought.
For my bridal shower this year, the favors were a big consideration because I did not want to give out anything that would be thrown out or kept to collect dust. Once you plan the party, the budget for favors may not be too big, which is why thinking about how I could shop second-hand at Goodwill was important to me – from both a financial and sustainability perspective. As both my fiancé and I are big readers, my shower hosts created the shower theme of "happily ever after," with all the decorations cohesive with that. It only made sense for the favors to stay on theme as well, and that's how we came to the idea of giving everyone a book to take home.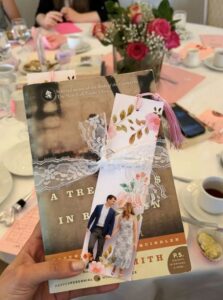 DIY Second-hand Book Party Favors
My shower hosts did the most incredible job of sourcing my favorite book, A Tree Grows in Brooklyn, from Goodwill stores all over New York and New Jersey and ordering the rest second-hand online. We bought a cute second-hand bookshelf at Goodwill and wrapped each book with a piece of lace to give it an extra special touch. My sister made beautiful, personalized bookmarks with our picture to go with them, making it such a special favor.
The feedback from guests was so much excitement. Many people hadn't read the book before and were looking forward to bringing home their own copy. Others hadn't read it in a while, and were happy to get reacquainted with the classic. Books are the gift that can keep on giving in so many ways, and the perfect item to share with all different types of people in your live. As you look to plan parties this season and start thinking about favors, consider how nice it might be to give people something that people will be excited about bringing home!