'Tis the season of upgrading to downgrades! Yes, it's January! The holidays are over now (insert sigh of relief here) and like many people, the onslaught of stuff and relief that it's FINALLY over has put me squarely in purge mode. Lots of us are. This is exactly why January thrifting may be my favorite time of year to make some epic finds as people replace their older gadgets with new ones. But don't ask me– it's legit– a thing. Just ask the Laist. 
What are two things that are popular to give and receive during the holidays? What the ads in December aimed at. Electronics and toys, baby– electronics and toys. 
Well imagine millions of people trading out their old toys and electronics for the new ones they just got, and you have yourself a literal gold mine of finds at your local Goodwill®. Have an old TV, gaming system, or computer, and need to upgrade– but don't want to buy a new one? Goodwill is your place– especially right now. Even more so if your local Goodwill is part of their Dell Reconnect partnership. Not sure? Find the one nearest to you by checking here. Buying used electronics extends the life of goods themselves while also being more earth-friendly. Goodwill's Dell Reconnect program started in 2004 and has helped collectively divert more than 500 million pounds of computers and computer equipment from landfills at more than 2,000 locations in the U.S. and Canada.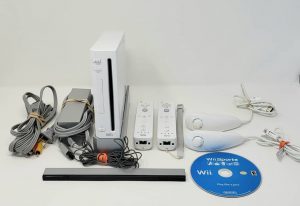 Credit: @nandrflippers
Donating your kid's old toys, but want to save big on some they'll grow into and love next year?  Or maybe you just like having a few great gifts tucked away for an upcoming birthday? Goodwill's got you. You may even find a few of your childhood favorites in mint condition. Just check out the Millennium Falcon I found the other day for my kid's upcoming birthday. It was missing a piece, but a sweet employee saw it fall off, chased me down and made sure I put it back on. Amazing, right?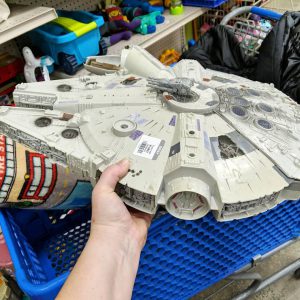 Credit: Jenna Pfueller
I loved this throwback find, too– still with it's BOX! Wow. A colorful and timeless toy that won't ever go out of style.
Credit: @sarahbeeot
So if you're feeling like you're SO over the holidays, join the club. But if you want to find some great treasures that you didn't see in the big box circular ads, head to your nearest Goodwill ASAP.