Written by Goodwill Industries International and the Humane Society of the United States
Dressing up as your favorite pop culture icon or well-loved classic, like a zombie or ghost, is a great way to celebrate Halloween. But costumes are not just for people anymore.
Halloween is the busiest time of year at Goodwill® stores, as people look for one-of-a-kind costumes for themselves and their families. It makes sense for pets to join in on the fun!
Many people dress up their pets for the holiday — and we don't blame them! Who doesn't love to see a cute dog or cat dressed up to celebrate on social media? DIY costume creation with items from Goodwill is also a great way to create a unique costume for your pet while saving money. Plus, Halloween pet costume enthusiasts can take pride in knowing their Goodwill purchases fund job training and placement programs for people who need them in our local communities.
We love to dress up our pets, but it is important to make sure we are being compassionate to their needs. Goodwill has partnered with the Humane Society of the United States (HSUS) to provide some tips to celebrate the holiday while keeping your pets happy and comfortable.
The key to successfully dressing up your pet in costume is to consider the experience from your pet's point of view.
Consider their mobility:
Don't put anything on your pet that will interfere with their ability to see, hear or move around. That pair of novelty glasses or witch's hat may be fine for the length of time it takes to snap a quick pic, but it can pose a danger if left for a longer period of time or makes your pet feel uncomfortable.
Of course, if your pet appears uncomfortable, it's important to take off the costume. Signs of discomfort include folded down ears, eyes rolling back or looking sideways, a tucked tail or hunching over.
Consider their personality:
What type of costume might he be most comfortable wearing, and for how long? Rescue dog Royce loves pretending to be a schoolboy wizard, but pets must be supervised to ensure they don't chew and swallow parts of their costumes.
Dressing up your cat: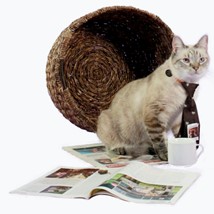 Meowgi started life as a poorly socialized kitten from the streets; now he's master of the boardroom! Since many cats don't like to wear costumes, keep them minimal. A short tie clipped to a collar will keep most cats in character — and happy!
Small pet considerations: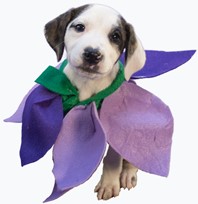 This shelter pup is pretty as a flower! Simple, lightweight costumes are best for small pets; be sure to remove any objects that could come off and pose a choking hazard. Don't have a pet? Head over to your local animal shelter and #AdoptPureLove!
Dress-up doesn't have to be just for cats and dogs: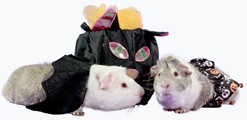 Who says guinea pigs can't wear Halloween costumes? Well, your guinea pigs might. But, if they're super chill adopted guinea pigs Hoss and Little Joe (that's right, animal shelters aren't just about dogs and cats, many have a variety of other animals looking for homes too!), you may get away with lightweight wings or a simple skirt. Be sure to pay their modeling fee in carrots or kale!
Safety from high-risk décor and accessories: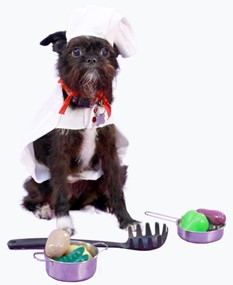 Chef Miles' large prop veggies are harmless, but some decorations can pose safety hazards. Beware of things like rubber eyeballs (choking risk), glow sticks (possible poison), potpourri and scented candles (toxic to birds) and strung lights (entanglement risk).
All of the pets featured in this blog were adopted from shelters or rescued from other situations. If you are interested in opening up your home to a pet, visit theshelterpetproject.org and type in your zip code to find cats and dogs available for adoption near you.
Maximize your Halloween enjoyment by learning more Halloween safety tips for pets from the Humane Society of the United States. Visit humanesociety.org to learn how the Humane Society of the United States fights for all animals, and sign up at for quick actions you can take to help. Happy Halloween!