We can all use a little help now and again, right? Awhile back we shared some tricks for unshrinking clothes and finding the best stuff at Goodwill and today we've got a follow-up post with some more tips for making your life easier. Ready? Let's jump right in!


Image via Beth Huntington
How annoying is it when jeans fit properly throughout the leg and seat, but have a huge gap at the waist? Not only does this make for awkward dressing (what shirt styles hide gap-waist?), it can also force you to continuously tug them into place throughout the day. No one needs that stress in their life! Thankfully, Goodwill Industries of Northwest North Carolina, Inc. (Winston-Salem) is on top of it with this trick I found on their Upcycled Fashion & Sewing pinboard. With a quick snip and stitch, you'll be able to get thrifted jeans to fit like a glove. Check it out!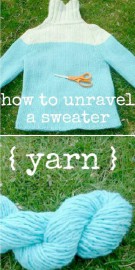 Image via howtospinyarn.com
Alright yarn-lovers, don't bother with those high-priced skeins anymore! Pinner Maria Arcorace saved an amazing post to her group pinboard for Recycling & Repurposing. One super helpful tip shows knitters how to unravel thrifted sweaters to reuse their beautiful yarn. This opens up a world of possibilities as you'll suddenly be able to grab yards and yards of fiber for just a few dollars. If you love to craft or crochet, be sure to click through. There are 19 other yarn hacks (like DIY yarn bowls!) that are as simple as knit-one-purl-one!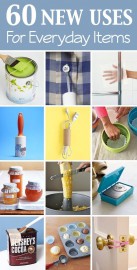 Image via listotic.com
A hair-straightener as an iron? A sock-turned-coffee-sleeve? A desk organizer as a dish divider? These are just a few of the incredibly clever life hacks suggested by Goodwill Industries of Michiana, Inc. (South Bend, IN). They may seem like little things, but when you're able to save a few minutes here or a little frustration there, it all adds up to streamline your life. I know I wouldn't complain about having a little extra time in the morning because I didn't have to pull out the ironing board. Hey, maybe I could even ditch my iron and board altogether to save space! Read more about these ideas and stay on top of the latest life hacks when you subscribe to this Life Hacks pinboard.
So, the next time you're out thrifting, watch for beautiful yarn (in sweater form), a hair-straightener (even if you have buzzed hair), or the perfect denim (don't worry about the fit!). With these thrifty hacks, you can simplify your life. That's not the only way Goodwill helps people out; Navigating the world of higher education can seem an impossible task without enough financial or personal support, so Goodwill Industries International launched the Community College/Career Collaboration (C4) initiative, in partnership with local Goodwill organizations and community colleges, to increase college and career success for adults with low incomes. This allows them to access and complete credentialing programs for market-relevant jobs and get out into the workforce to build a better future. Thanks for shopping at Goodwill for your life hack necessities—you make that mission possible!