By Felicia Czochanski Bisaro
I'll be the first to admit the summer heat really got to me this year. I've had enough of the humidity that makes my hair frizz up and my makeup sweat up by the time I get back to my apartment after a 10 minute walk. I love the warm weather, but the heat is another story. Fall brings a welcome change for me. I'm actually looking forward to cozy season – I've been eyeing all the comfy slipper options I come across, the fluffier the better, and am ready to start sprucing up my apartment in a way that says "pumpkin spice and everything nice" without a sign that actually says it.
There are a few ways to spice up your home décor that will get you in the mood for fall – and remember, not all fall decorations need to be centered around a holiday like Halloween. All too often we fall into the trap of highlighting one day of the season in our décor, however there's so much more creativity we could bring to the table, sideboard, or even the bathroom.
Keep reading for home décor inspiration to get you in the mood for all things fall!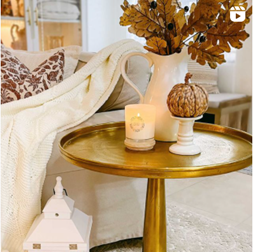 Photo: @lamamaglamourosa
1. Repurposed Home Goods
I'm absolutely in love with this stunning fall side tablescape – and not to mention the table itself. I was shocked when I saw the price tag that this beautiful gold side table was thrifted at Goodwill for just $14.99. What a steal! I love how this thrifty mom repurposed thrifted home goods for a beautiful, minimalist fall look. The repurposed porcelain pitcher turned vase with the gorgeous bouquet of golden leaves is a highlight here for me.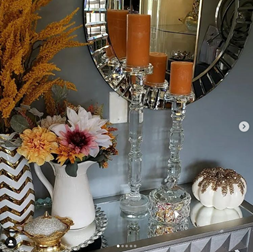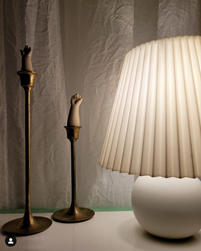 Photo (left; right): @passionate.decorator; @amanda_algeo
2. Candlestick Details
The first thing that made me realize how much I was looking forward to autumn this year was when I started to subconsciously search for cool tall candlesticks of varying sizes and the long and lean candles to go with them. On an impromptu thrifting trip with my sister – I found the perfect set of four for just $2. I love the different atmospheres the thrifted candlesticks above cast in each room. The crystal-like holders give a bit of glam to the season, and the mini hand candle holders lean into the spooky side of fall.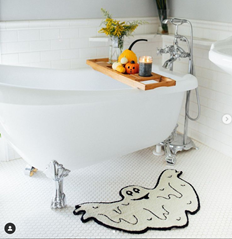 Photo: @thedaintysquid
3. Boo – In the Bathroom
When it comes to home décor, attention to detail is important when it comes to setting the scene throughout your home. One room that frequently gets overlooked in the process is the bathroom – but when it's done right, like in the adorable and creative way above, it makes all the difference. The next time you stop by your local Goodwill, be sure to keep small touches like mini pumpkins, candles, and even a bath tray or fun bathmat in mind. A little bit of seasonally themed detail can go a long way, especially when it's unexpected!
For Halloween shopping and inspiration visit the the Goodwill.org Halloween Landing Page.