Is anyone out there in the middle of a heat wave? I love the warm weather, but sometimes, to get through these steamy summer days, we do need to think of some unconventional ways to cool down. Air conditioning is great and all, but if it's not available where you are on an especially stuffy day then you may realize that giving the cold shoulder isn't always such a bad thing. Not sure what I mean? Read on for details about a few style suggestions that sneak a little breeze into your ensemble.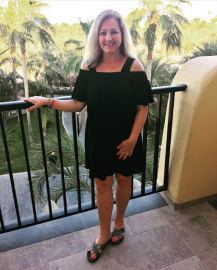 Image via instagram.com/goodwillwny
Cut-out shoulder tops and dresses, like this one I saw on Instagram from  Goodwill Industries of Western New York, Inc. (Buffalo) have been super trendy this season. That may be due in part to the fact that they act like built-in A/C letting your body breathe instead of being stifled by fabric. This particular little black dress was purchased at Goodwill for only $5—what a score! Even if you don't find your perfect cut-out piece while shopping, don't forget that you can do it yourself with some scissors and a thrifted frock. Look for jersey fabric which can handle raw edges without fraying or put your simple sewing skills to use by finishing the edges you cut out. When you spend so little on project supplies at Goodwill, there's very little risk involved in trying your own crafty projects. Plus, even if your cut-out dress doesn't turn out as you'd planned, you're still supporting the Goodwill organization programs that move people to employment and reduce reliance on over-stretched public assistance programs.
Image via instagram.com/_niftybynature
If cut-outs aren't quite your taste, another stylish choice this season is an off-the-shoulder look like this one shared by  Goodwill Industries of San Antonio on Instagram. I love the playful leaf pattern and the way Stephanie has paired her blouse with slim high-waisted jeans to show off her shape. One thing to remember any time you don a flowy or puffy garment (like this top) is that it can be really easy to feel frumpy if the outfit isn't finished off with something form-fitting. Go for skinny hip-hugging jeans like this or, if you're wearing a dress, you could belt it at the waist and leave your legs bare to accent your figure and defeat the frump! Although, as long as you're comfortable, that's really what matters most so go ahead and throw these fashion rules right out the window if that's what feels right to you.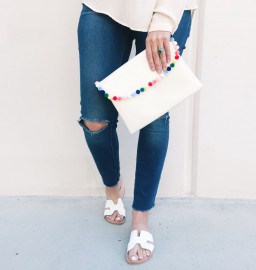 Image via besosalina.com
In a hot, sweaty day, one thing that always bugs me if I'm out and about is a heavy purse hanging on my shoulder. I feel like it drags me down and makes the heat feel even more oppressive. Clutches to the rescue! Keep your shoulders clear with a handheld bag instead. I'm particularly fond of  this cute pompom clutch that blogger Alina crafted from her Goodwill find. The white bag was sweet before, but she took it to the next level by ditching the cutesy bow and adding a rainbow of pompoms along the edge instead. The vibrant colors make it feel so summery and the project itself must have only taken minutes. A round of applause for Alina, please!
Best of luck to all of you out there who are looking for creative ways to stay cool this summer. If I see you at Goodwill giving me the cold shoulder, I promise I won't be offended.