Floor treatments cover so much of our homes that they make an enormous impact on our styles, whether we realize it or not. Because they're wall-to-wall in every room, they're also one of the most expensive aspects of decorating our homes—until now! The three thrifty influencers I'll be mentioning today have found some inexpensive and eco-friendly solutions to their flooring woes. Read on to find out how!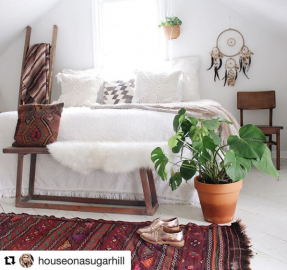 Image via instagram.com/houseonasugarhill
This lively bohemian rug that Goodwill Industries of Western New York, Inc. (Buffalo) reposted on Instagram is #homegoals. The savvy gal who thrifted it from her local Goodwill shop only paid $9 to bring it home! If you're itching for new floors, but it's just not in the budget, look for second-hand throw rugs instead. You can use them to cover up trouble spots and high-traffic areas to extend the life of your current floors without seeing them as an eye-sore. Throw rugs even look great over carpets as they add texture and further soften the look of a room which makes them a great solution for serious stains. And, as with any purchase from Goodwill, you're helping the environment by keeping pre-owned items out of the landfills. Goodwill organizations also serve as sustainability innovators by harnessing renewable energy, from installing solar panels on their roofs to becoming LEED certified.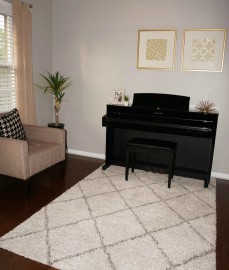 Image via newlyhoused.com
For anyone who seeks a more transitional style of decor, options are still plentiful. Just take a look at this beautifully neutral rug that Katie from the blog Newly Housed found at Goodwill for almost a quarter of its original price tag. The light color was the perfect way to significantly brighten up her dark wood floors which made the room feel heavy and dreary. It also balances out the light-colored walls so the room feels even instead of polarized. Her entire home is peppered with thrifted finds that look like they're straight out of a high-end decor boutique so check out the full post for inspiration or just head out to your local Goodwill to see what you can find!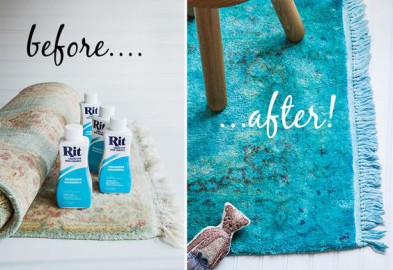 Image via ritdye.com
But, don't feel limited by what you see in stores either. It can be so frustrating to walk out of a shop empty-handed when you really need a solution. Why not take things into your own hands? If you can't find the right rug in your price range and color scheme, it's time to pull out the big guns—dye! Overdyed rugs like this one shared on Pinterest by Goodwill Industries of Wayne and Holmes Counties, Inc. (Wooster, OH) are so trendy right now and they're the perfect way to make something match your budget and decor style. Plus, we can guarantee yours will be unlike any other! Thankfully, this method of rug rehabilitation is pretty forgiving, especially if you're choosing something with an underlying pattern, so you don't have to stress about even application. Just have fun with it!
As well as brightening your home, hiding any bad flooring underneath, and softening the atmosphere, when you cover your turf with thrifted rugs you can reduce the echo of voices to make a space feel more cozy and lived-in. No matter the reason for your flooring updates or the style you seek, scouting Goodwill for solutions is a smart start. Happy weekend!