Rockville, MD. — For the second year in a row, Goodwill Industries International and Family Circle are teaming up for a Back-to-School Clothing Drive. The goal of the drive is to encourage families to donate their gently used clothing to fund support services that help people facing challenges to finding employment become financially stable and support themselves and their families.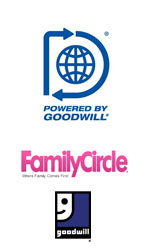 This year's clothing drives launches on Monday, August 2, and ends on Thursday, September 30, 2010. The two organizations are encouraging people to donate their clothing items to any one of Goodwill's 3,500 donation centers across the country or schedule their own donation drive at schools, businesses, or anywhere friends and neighbors gather. The partnership will be featured in Family Circle's September issue, which is dedicated to back-to-school. More information can also be found at http://donate.goodwill.org/familycircle/
Last year, Family Circle readers helped generate 11 million pounds of clothing donations, far exceeding the original goal of 5 million pounds. Once again, moms and dads can use the clothing drive as a way of teaching their kids that donating can make a real difference in someone's life. Plus, donating also gives clothing a second life by keeping items out of landfills and helping to preserve the environment. The Back-to-School clothing drive will help to support Goodwill's new Donate Movement, a public awareness initiative powered by Goodwill® that inspires consumers and businesses to promote the positive impact donating has on people and the planet.
"Family Circle is happy to partner with Goodwill for the second year in a row for our Back-to-School Clothing Drive," said Family Circle Publisher Diane Papazian. "Family Circle readers are dedicated to getting involved in their communities and giving back. This is a great way to do so."
Find your local Goodwill store or donation center, donate what you no longer need, then calculate the impact of your donation through the Donation Impact Calculator at http://donate.goodwill.org. The calculator will show you how your donated goods become jobs. For example:
One bicycle, one coat and one DVD provide a person with one hour of on-the-job training.
One working computer provides 5.3 hours of career counseling.
Six shirts and two pairs of jeans provide one hour of a job search class.