It's the most wonderful time of the year. I'm not talking about the holidays, well, not yet anyway. I'm talking about fall. It's the perfect time to showcase your individual sense of fashion, embrace layers and textures and create outfits that are both fashionable and functional for the weather. One major way to flex your style muscles is with footwear. The right heels, flats, sneakers or boots can elevate any look. Luckily, Goodwill has some classic and trendy footwear  so you know the aisles and racks have something that's bound to be perfect for you.
Below are a few fall footwear trends your closet will thank you for.
Tall Riding Boots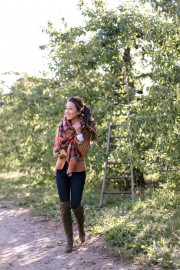 IMAGE SOURCE: The Extra Petite
If you're like me and live on the East Coast, then you know a sturdy pair of boots is an absolute must. They protect your feet from the snow, sleet and rain, but also make any attire (even leggings and a sweater) look so stylish. Because boots are such a classic piece, you'll find tons of them at your local Goodwill. There's suede, leather, shiny patent and knee high or over the knees. Whatever you choose, I always suggest going up a half size if you plan to wear them with chunky socks or tuck your jeans into them.
Animal Print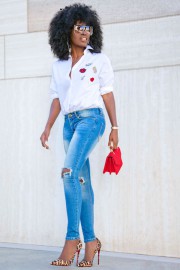 IMAGE SOURCE: Style Pantry
Prints are a great way to incorporate a bit of pizazz to your wardrobe without going totally over the top. And if there's one way to do that this season, it's courtesy of animal print shoes. The high fashion runways were overrun with prints like these that had everyone going wild.  Try them in the form of sneakers, heels, boots or more. Also, while everyone knows about leopard print, don't be afraid to try zebra or even python.
Cowboy Boots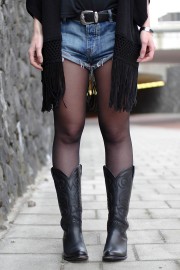 IMAGE SOURCE: Red Riding Hood
Yes, another pair of boots made the must have fall shoes list. But unlike the tall boots which are a bit more classic, cowboy boots are sure to turn heads. The style is more in your face with an edgy vibe, so it's perfect for anyone who wants to step out of their comfort zone a bit. Also, if you're on the fence about trying something new, Goodwill has tons of shoes at wallet-friendly prices so you don't have to make a major financial investment. Boots like these are definitely made for walking. In addition to amping up your style, shopping at your local Goodwill just makes a major impact. The organization promotes independence by training people who are unemployed or underemployed. It' a win win for everyone.
Fall fashion, or any season for that matter, should be about having fun, defining your style and of course, doing it on a dime.