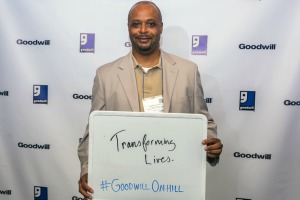 I recently had the privilege of leading a series of discussions with a small group of Goodwill® employees during a conference hosted by Goodwill Industries International.  Our topic was community engagement and advocacy. We began our conversation by considering who makes up the community in which Goodwill belongs and how we engage the group.  Is it just our shoppers and donors? How about program participants and their family members? Volunteers and board members? Other organizations with which we partner also play a role.
Our conversation about advocacy didn't just focus on political advocacy and how we engage grassroots and grasstops to strengthen public policy influence.  Rather, we discussed how advocacy can be a vehicle to engage the community, build relationships, and strengthen the brand.  Stakeholders in our community can be advocates on behalf of Goodwill and the people we serve.  Most importantly, advocacy is about empowerment and we had a great conversation about how people can be advocates for themselves.  People like Shay Felder and Monique Armstrong, who participated in Goodwill's recent Advocacy in Action event.
This is a timely topic as we near the end of Goodwill Industries Week, an annual celebration for local Goodwill agencies to engage their community and educate people about the mission.  Banquets, awards dinners, luncheons, donation drives, career fairs and other events are taking place all over the country in honor of the event.  Follow #GoodwillWeek on Twitter to join the celebration.  Share how you engage with the Goodwill community, not just this week but every day and what advocacy means to you via the comments below or on our social media pages.