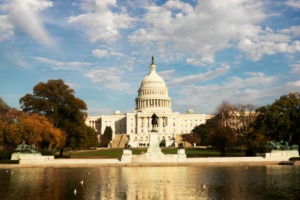 Last week, as Hollywood celebrated the much-anticipated film Star Wars: The Force Awakens, people in Washington, DC (or as I like to call it, "Hollywood for Geeks"), celebrated the end of the year's Congressional session with the passage of a $1.1 trillion spending bill along with a tax extenders bill. Having just purchased my tickets for The Force Awakens, the DC geek in me can't help but feel as though the credits are rolling on the second part of a three-part Congressional trilogy.
Part one of our trilogy featured years of political theater due to sequestration that triggered concerns about government shutdowns and austere funding for a range of federal programs.
In 2015, or part two, Speaker of the House John Boehner sacrificed his speakership in order to ensure the enactment of the Bipartisan Budget Act of 2015. Passage of the bill extended the nation's debt limit through 2017; set spending levels through September 2017; and provided $80 billion in sequestration relief. Furthermore, Congress passed the Every Student Succeeds Act; thereby overhauling the No Child Left Behind Act and clearing a significant to-do item for Congressional committees that are responsible for advancing key education and job training bills. Bottom line: Congress cleared the deck of some significant obstacles that could have made its work much more difficult in 2016.
So here's the situation for part three. Yes, much of the drama associated with the budget and appropriations process has been mitigated, but the presidential election will affect much of the dynamics and result in a short window of time for advancing legislation that Goodwill® cares about.
Despite that, there are reasons to be cautiously optimistic. For example, Congress has a strong opportunity to advance The Second Chance Act, bipartisan legislation that aims to reduce recidivism and improve outcomes for people returning from incarceration. House and Senate committees have also shown interest in advancing a bill that would enhance career and technical education in secondary and post-secondary education.
Admittedly, my political trilogy doesn't sound as exciting as jumping to lightspeed in the Millennium Falcon (I've always wanted to do that!), but the 2016 Congress promises opportunities to advance legislation that supports Goodwill's mission to help people find jobs and advance in careers. You can help by registering for Goodwill's legislative action center.