With discussion of the newest iteration of Star Wars currently on the lips of everyone from boyfriends to bosses, I thought it was high time for a look into some of the nerdier aspects of thrift shopping. So, if cosplay or couch co-op are your things, blow out your cartridges and let's dive in. Today we're going geek chic!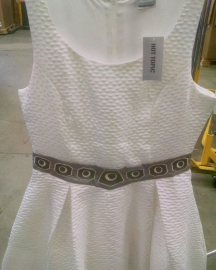 Image via instagram.com/goodwillvegas
Goodwill Industries of Southern Nevada, Inc. (North Las Vegas)spotted this simple Leia-inspired dress on their racks and I can't help but think it would be the perfect piece to wear to see the movie. It can be so fun to don attire that's a nod to a favorite film or game, but subtle enough not to turn too many heads at work or walking on the street. This is my kind of nerd-style! By the way, the seamstress in me has to point out that this bodice shape is called the "princess bodice." Perfect, right? Go ahead, indulge your inner Leia by looking for similar outifts at your local Goodwill.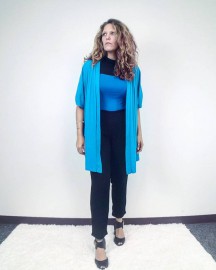 Image via nerdinthecity.com
Or maybe putting together bold and brave costumes is something you enjoy! Goodwill is one of the best spots to grab elements for cosplay. Just ask Liz from Nerd in the City!She did a blog feature for some of her favorite cosplay looks and every single one relied heavily on thrift store finds. Scrolling through them I had a very hard time picking which one I wanted to feature here. I settled on her Dr. Beverly Crusher from Star Trek: The Next Generation. Even I (someone who doesn't know much about the Star Trek universe) can tell right away what show she's from. And since she has sourced all of her look second-hand, or right from her own closet, she can afford to come up with a new suit for every convention that comes to this galaxy…errr, to town.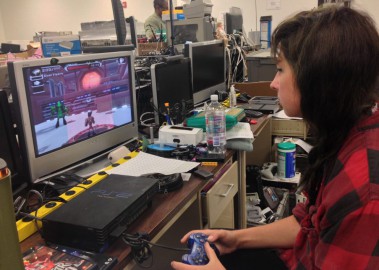 Image via goodwillnne.org
Now, what do you think is the most common dream job for geeks world-wide? Maybe a video game tester? It just so happens that Olivia from Goodwill Industries of Northern New England (Portland, ME) does exactly that! She's paid to play through the first level of donated video games and try out the controllers, consoles, and other gaming accessories that make their way to her. All this is to ensure that shoppers in Goodwill stores can find gaming goodies that will perform perfectly at your next couch co-op session. Read more about Olivia's job here!